Hello, crafters!  When was the last time you used the Iris Folding Technique?  It has been a while for me, but I have an example for you today.  This technique was featured as a Technique Lovers' Challenge on Splitcoaststampers on Monday.  I went through my iris folding designs and selected an Iris Folding Hot-Air Balloon.  This design was more difficult from one's I've tried before.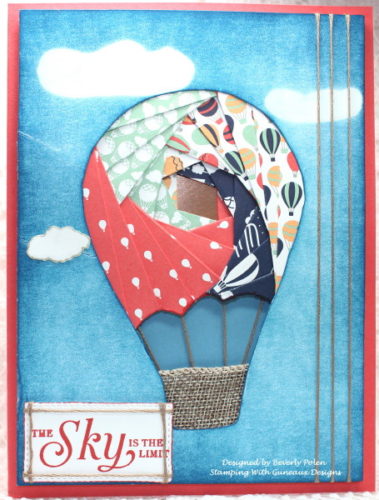 The iris folding on this card  is the upper part of the balloon.  I wish I could show you the actual design; however, it is copyrighted.  But you can get a sense of the design by the flow of the folded pieces of designer series paper.  An iris folding design includes lines, which represent where the folds go, and numbers (e.g., 1 – 26) within the shape.  Each number represents a fold.
There are four different "patterns" of numbers for this design.  A pattern is the designer paper, specialty paper, card stock, etc., that you chose to use to fold and adhere to the card stock where numbers are located.  For example, Pattern A of this design included the numbers 1, 3, 7, 11, 15, 19 and 23.  I selected a pattern from the Stampin Up Carried Away Designer Series Paper (i.e., the colorful hot-air balloons), cut 1-1/2″ strips of the pattern, folded them in half, placed them over the numbers for Pattern A, and attached them to my card stock that has the outline cutout of the design.  The right side of the balloon is where Pattern A is located.
Pattern B is located where the folds of Mint Macaron paper is located, Pattern C is where the Watermelon Wonder (orange) folds are located, and Pattern D is where the Night of Navy folds are located.  To get a better sense of a design, numbers, and patterns, you can go HERE for numerous pictures.
These are examples of other cards I have created featuring Iris Folding:       
If you have not tried this technique, I encourage you to try it.  It is a lot of fun.  Thanks for stopping in, and I hope you enjoyed your visit!
---

God's Blessings!
Stamping With Guneaux Designs By Beverly Polen
Firm Reliance on Divine Providence!
---
PROVERBS 30:5 & 6 (NIV)
"Every word of God is flawless; he is a shield to those who take refuge in him.  Do not add to his words, or he will rebuke you and prove you a liar."