Happy Monday!  Did you have a nice weekend?  The weather was wonderful where I live in Florida!  During the weekend I made this gorgeous Altenew Peony Bouquet Birthday Card.  I love the Altenew Peony Bouquet Stamp Set!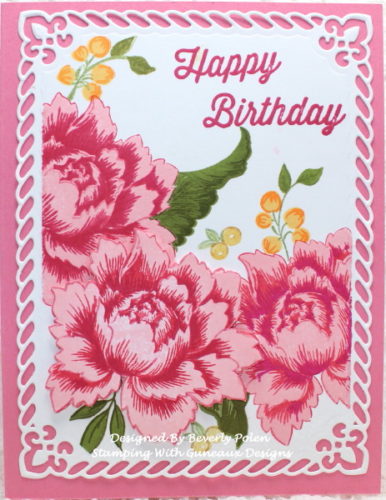 The Altenew Peony Bouquet Stamp Set is a multi-layering group of stamps.  They create a beautiful peony.  To create the three peonies on this beautiful card, I used three different pink inks for the five stamps that create a peony.  I did not like the way the ink appeared on the bottom center peony, so I stamped it again on separate card stock and fussy cut it out.  I have a matching die set for the peonies; however I did not what the white edges that a die cut typically leaves.  I used double-sided foam tape to pop up the flower.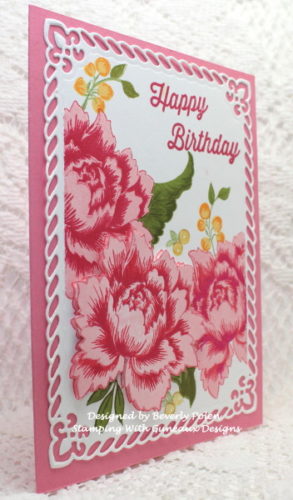 The frame that the images are on was cut out using the Spellbinders Enchanted Labels.  I think it is a beautiful frame.  I used the Hero Arts Birthday Celebration Stamp Set for the Happy Birthday sentiment.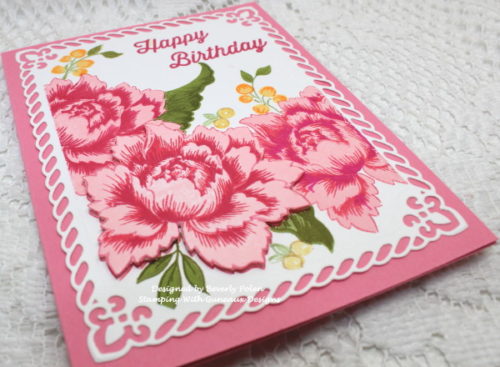 I hope I have inspired you with the beautiful card!  Have a wonderful day, and if you have feedback, I would love to hear it.  Leave a message in the comment section.
---
---
MATTHEW 6:22-24
Jesus said:  "The eye is the lamp of the body.  If your eyes are good, your whole body will be full of light.  But if your eyes are bad, your whole body will be full of darkness.  If then the light within you is darkness, how great is that darkness!"