September 11, 2016 – fifteen years since that horrific day!  The United States citizens must always remember 9-11-01.  This card is in remembrance of that horrific day!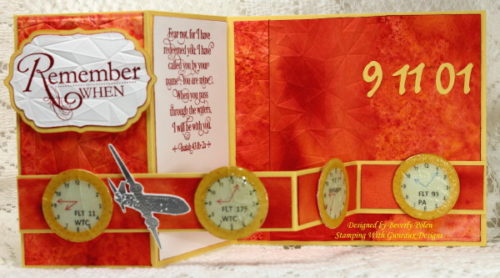 Although I created this card in rememberance of 9-11, I entered it into a Splitcoaststampers Free For All, F4A342, Challenge hosted by Robin's (Stamperrobin). She asked that we make a card that shows time, as in clock/clocks.
The card took me a couple days to create as brought back many emotional memories. I was one of those running for her life when Flight 77 crashed into the Pentagon at 9:37 a.m. EST in the US.
At the time, I was working for the Federal Government in Washington, D.C. As my staff gathered in my conference room watching TV and the horrific occurrences in NYC, we were in shock.
8:46 a.m. – Flight 11 crashes into the North Tower of the World Trade Center (WTC);
9:03 a.m. – Flight 175 crashes into the WTC's South Tower;
9:37 a.m. – Flight 77 crashes into the Pentagon – Panic struck, I was confused but ordered my staff to leave the building immediately!  When we exited the building, there were masses of people running, not knowing where to go! I found my car pool members and felt some relief that we were together out of the building.
However, we were stuck!! Traffic was not moving, phone lines weren't working, panic everywhere. It took us HOURS to exit the city and to arrive at home. Then I realized Flight 93 crashed into a field in PA. That day is one that is etched in my memory, never to be erased.
As for the card, I used red and yellow brushos to resemble the horrific fires! I used an embossing folder on the dried card stock to represent the "pieces"; lives lost breaking families into pieces, buildings fell into many pieces, survivors hearts broken into pieces, etc.
The clocks on the card are broken into pieces and the face of each clock is grayish to represent the horrific gray matter flying in the air when the WTC Towers crashed.
Let us never forget!
---
Because the purpose of this card is to encourage remembrance of 9-11, the supplies used are insignificant.  Therefore, links of the supplies are not included.
Stamps: ODBD Grace's Strength, SU Word Play, SU Sentimental Journey
Paper: Watercolor Card Stock, Solar White Card Stock, and SU Daffodil Delight Card Stock
Ink: SU Real Real
Accessories: Red and Yellow Brushos, MS PowerPoint, ODBD Double Stitched Circles, Spellbinders Frame Dies, WRMK EF, Sizzix Numbers
---

God's Blessings!
Stamping With Guneaux Designs
---
"For I will forgive their wickedness and will remember their sins no more."  Hebrews 8:12