Hello, visitors!!  I have for you today a card featuring the Our Daily Bread Designs (ODBD) Old Mill Stamp.  I prepared this card for Splitcoaststampers Sketch Challenge for today (see below).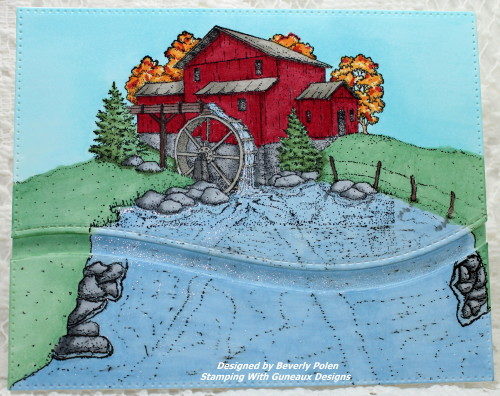 I love the ODBD Old Mill stamp as it reminds me of my home town in West Virginia (WV) where an old mill is located.  Have you heard of Babcock State Park in WV?  The park has this old mill called, The Glade Creek Grist Mill.  These two pictures are of the mill in the summer and fall.
The following is a picture of the mill that my niece gave me.  She is a professional photographer and she took the picture during the fall.  I keep it hanging in my craft room as it reminds me of home.
The Glade Creek Grist Mill was completed in 1976.  Fully operational, the mill was built as a recreation of one that once ground grain on Glade Creek long before Babcock Park became a state park.  Known as Cooper's Mill, it stood on the present location of the park's administration building parking lot.
Of special interest, the mill was created by combining parts and pieces from three mills that once dotted the state of WV.  The basic structure of the mill came from the Stoney Creek Grist Mill which dates back to 1890.  It was dismantled and moved piece by piece to Babcock from a spot near Campbelltown in Pocahontas County, WV.  After an accidental fire destroyed the Spring Run Grist Mill near Petersburg, Grant County, WV, only the overshot water wheel could be salvaged.  Other parts for the mill came from the Onego Grist Mill near Seneca Rocks, Pendleton County, WV.
A living monument to the over 500 mills that thrived in WV at the turn of the century, the Glade Creek Grist Mill provides freshly ground cornmeal that park guests may purchase, depending on availability and stream conditions.  Visitors to the mill may journey back to the time when grinding grain by a rushing stream was a way of life, and the groaning mill wheel was music to the miller's ear.
As a teenager, I spent a lot of time at the state park, sitting on rocks near the mill.  At adulthood, I spend a lot of time with relatives having family reunions at the park.  These memories swirled around in my head as I was coloring the image on my card!  Here are some additional photos of the card.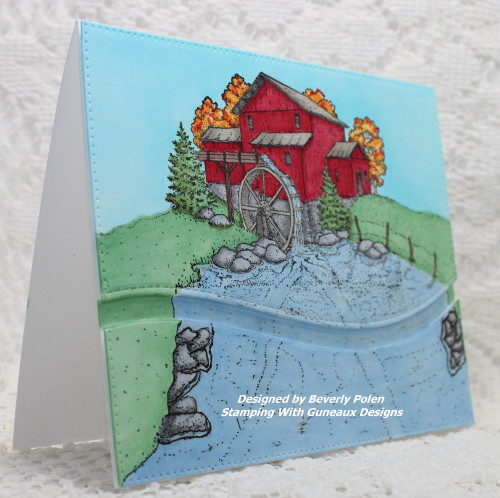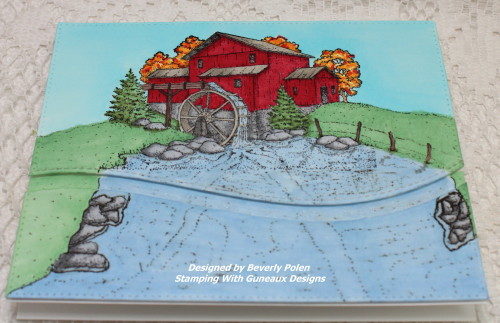 I hope you were inspired by my card!  Have a great day and come back soon!
---
SUPPLIES
Stamps:  ODBD Old Mill
Paper:  Neenah Solar White Card Stock (110 lb)
Ink:  Copic Sketch Markers
Accessories:  Lawn Fawn Stitched Hillside Borders, Clear Wink of Stella
---

God's Blessings!
Stamping With Guneaux Designs By Beverly Polen
---
Jesus said, "What good will it be for a man if he gains the whole world, jet forfeits his soul? Or what can a man give in exchange for his soul?  Matthew 16: 26