Since it's Halloween, I'll post a card I did for a Splitcoaststampers Falliday Fest Challenge, FF16naturecoastcrafter, Owl Punch.  Obviously, I am featuring the Stampin' Up! (SU) Owl Punch, and my owl is decorated with a witch hat that I made with the old, retired SU Waffle Paper.  Remember that?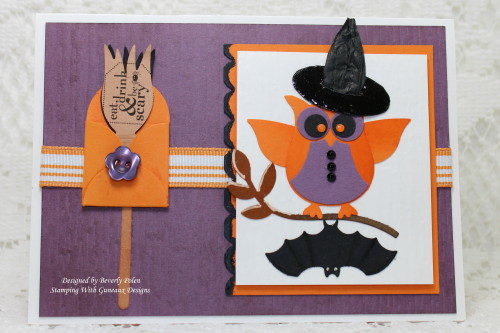 I had to compliment the Stampin' Up! Owl by adding the SU Bat, hanging upside down. Can't you imagine that combination in a real wildlife scenario?  Actually, some say they can co-exist peacefully, and others say not. Can you imagine an alert bat's "radar" not picking up on an owl's presence?  I'm sure it goes both ways.  Regardless, my Owl and Bat co-exist quite peacefully!
---
Stamps: SU Cute by the Inch and MDS Eat, Drink, and be Scary
Ink: Chocolate Chip, Pumpkin Pie, Going Gray, and White Gel Pen
Paper: Perfect Plum, Pumpkin Pie, Soft Suede, Basic Black, Whisper White, Creamy Caramel 
Accessories: SU Owl, Bitty Bat, Petal Card, Two-Step Bird, Scallop Edge Border, and Build A Bear Kooky Spooky Punch/Die; Crystal Effects (Owl's eyes); Perfect Plum Designer Button; Adhesives; Black and Clear Embossing Powder; and Black Designer Jewels (buttons on owl's vest).
---

God's Blessings!
Stamping With Guneaux Designs By Beverly Polen
Firm Reliance on Divine Providence! 
---
Jesus went upon a mountainside and sat down.  His disciples came to Him, and He began to teach them.  He said:   "Enter through the narrow gate. For wide is the gate and broad is the road that leads to destruction, and many enter through it. But small is the gate and narrow the road that leads to life, and only a few find it."  Matthew 7:13-14