Hello, friends!!  The card I am sharing today is a Scented Stained Glass Window card. I started developing the card in response to a faux stained glass challenge on Splitcoaststampers.  As I created the card, it evolved into more than a faux stained glass challenge response.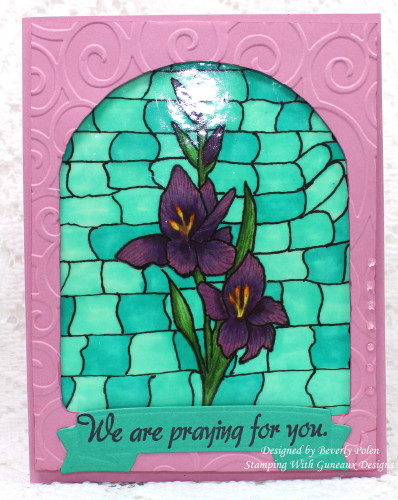 As I started thinking of other Splitcoaststampers challenges for the week, I decided to incorporate all of these challenges, but the faux stained glass would be the primary focus for the card.
MIX190 – Ky (Scrapacat) is the hostess of the challenge to create a card with faux stained glass. I began my window by stamping and coloring (with copics) a purple Gladiolus flower, which is from Our Daily Bread Designs. Upon completion, I used a MICRON pen to draw my wonky pieces of "glass".  I used two greenish Copic markers to color the glass.
TLC630 – Judy (StampingQueenJAR) hosted a challenge to add texture to a card by using a technique and not an embellishment. The technique I used is the stain-glass window technique. The texture I added was a flavorful embossing powder. It smells like Vanilla and it is a retired Stampin' Up! powder!
WT601 – Carla (Covington Crafter) hosted a challenge to create a card that "Mmmmm, Smells Good!" by adding or creating a scented embossing powder.  I used three layers of SU Vanilla Scented Embossing Power, and I was surprised that it had not lost its scent as it is old. I was wrong, mmmmmm, my card smells GOOD!
F4A343 – Shirley (wannabcre8tive) hosted a challenge to get "Swirly" by creating a card with swirls. The front panel, my hand-made cathedral window, is covered with swirls made from a Cuttlebug Swirls Embossing Folder.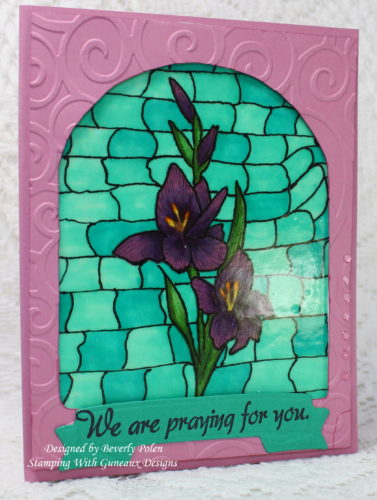 Whee, that was a lot of work, but does my card ever smell good!  If interested in seeing all the wonderful comments made about this card, you can see them HERE!
---
SUPPLIES
---

God's Blessings!
Stamping With Guneaux Designs By Beverly Polen
---
"See to it, brothers, that none of you has a sinful, unbelieving heart that turns away from the living God.  But encourage one another daily, as long as it is called Today, so that none of you may be hardened by sin's deceitfulness."  Hebrews 3:12-13