Splitcoaststampers has a Color Challenge, CC576, posted here today, and the colors being featured are Tempting Turquoise, Tangelo Twist, and Whisper White.  What do you think about Tempting Turquoise and Tangelo Twist together?  At first I was hesitant about the colors, but after I began creating, I realized how well they go together.  BTW,  I do not have any Tangelo Twist, so I substituted Tangerine Tango.
This is the card I made for the Splitcoaststampers Color Challenge, CC576: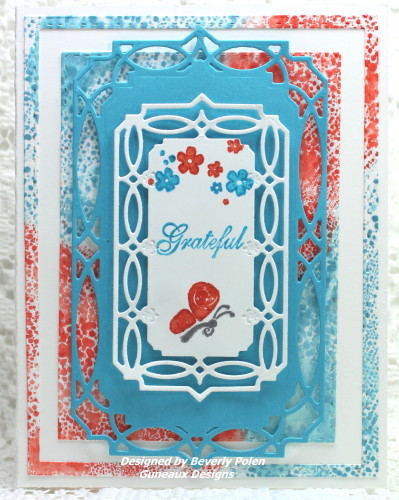 (Update:  This card was chosen as a Splitcoaststampers' favorite.)
These are the steps I took to make the card:
I began the card by spreading Tim Holtz's Distress Ink – Broken China and Ripe Persimmon – (close to Tempting Turquoise and Tangerine Tango) onto my Rangerink non-stick craft sheet, being careful to not blend the colors.
Then I spritzed the craft sheet with water mist until bubbles formed.
I cut a 4″ x 5-1/4″ piece of Whisper White card stock and laid it, front side down, onto the ink.
I slightly, very slightly, touched the back of the card stock in several places to ensure ink transferred to the card stock.
I used the heat gun to ensure it was dry.
This photo is my first try.  Somehow, I don't know how, I got the orange mixed into the blue.  Needless to say, that piece went into the trash and I started over following the above steps.
After achieving the color mixture I wanted, I used Our Daily Bread Designs (ODBD) two largest Double Stitched Rectangles Dies (CBD123) to cut out three die cuts.
I only used the largest and smallest die cuts to adhered to the front of a Whisper White (thick) card stock, as shown in the following photo.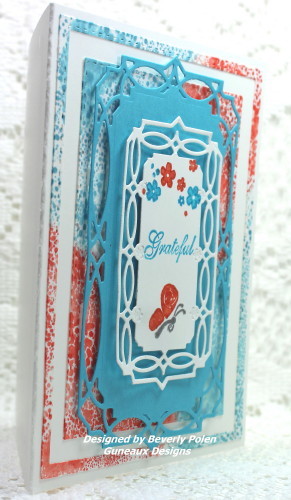 Next, I added adhesive foam to two frames, Tempting Turquoise and Whisper White, made with the Spellbinders Nestabilities Astoria Decorative Element Dies (S5-254)
Before adding the Whisper White frame, I stamped the images onto the frame.
I adhered the third frame die cut that I mentioned above to the inside of the card as shown in the below photo.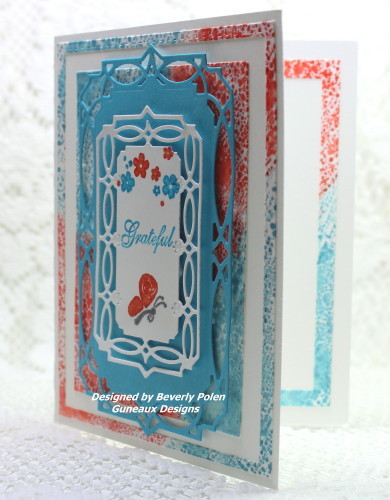 Enjoy and thanks for stopping by!

SUPPLIES USED:
Stamps:  Studio g Blessed
Paper:  SU Whisper White, Tempting Turquoise, and Tangerine Tango Card Stock
Card Size: A2
Ink:  Tim Holtz Distress Ink and SU Tempting Turquoise and Tangerine Tango
Accessories:  Double Stitched Rectangles Dies (CBD123), Spellbinders Nestabilities Astoria Decorative Element Dies (S5-254), and Rangerink Non-Stick Craft Sheet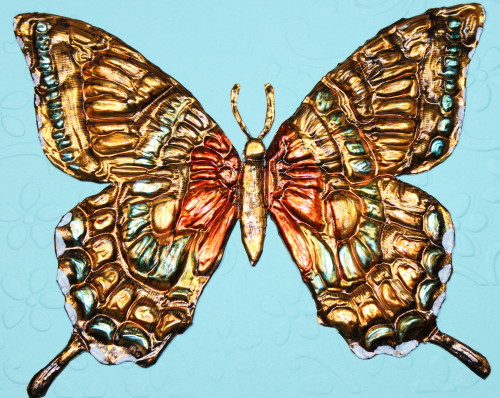 God's Blessings!
Stamping With Guneaux Designs by Beverly Polen
"Come to me, all you who are weary and burdened, and I will give you rest." Matthew 11:28