Today I am sharing a card that features the item I discussed in my last post — the stamp image from the Daydream Medallions (126467) stamp set.  Daydream Medallions is a stamp set intended to be used with the Floral Frames Framelits (127012); however, I did not use them for this card, as you can see.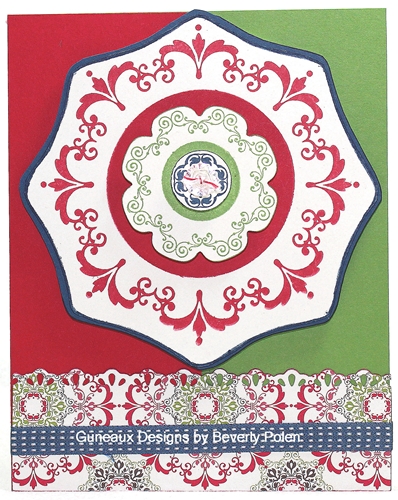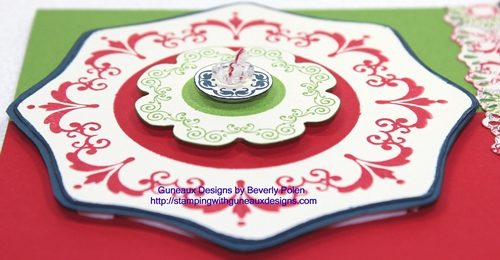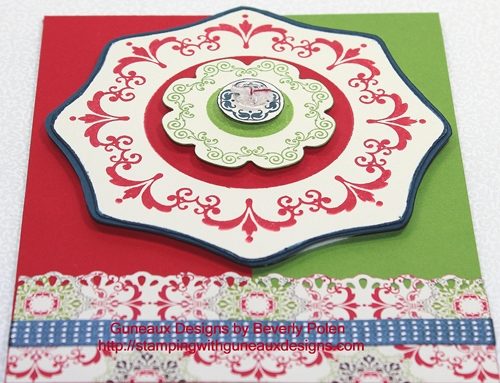 For my previous post, no one attempted a guess on how I created the frame around the Daydream Medallions stamp image shown on the card.  Thus, let me reveal to you how to create this frame.  As stated in my last post, if you closely examine the stamp set, you will see the frame.  However, the following provides the tip.
TOOL TIP FOR DAYDREAM MEDALLIONS
For background purposes, let me share first that I keep the foam-backed rubber pieces that are left after removing Stampin' Up! die-cut stamps.  I remove the paper from the back of the rubber pieces, place them back inside the stamp set cases, and insert the stamps back into the appropriate pieces after using them.  With the paper removed from the rubber, the pieces will stick to the plastic cases, as well as the clear blocks for clear-mounted stamps.  I refer to the left-over rubber pieces as the outlines of the die-cut stamps.
Some of the outline rubber pieces can be used as actual stamps when the design of the outline affords that opportunity!  That is how I created the frame around the large, stamped medallion from the Daydream Medallions stamp set.  I positioned the large medallion outline onto the Stampin Up Clear Block F (118483), used a Stampin' Write Marker to apply ink around the outline of the medallion, and stamped the outline onto a piece of Very Vanilla card stock.  I then stamped the medallion within the frame.  That's it!!  Try it; you'll like it!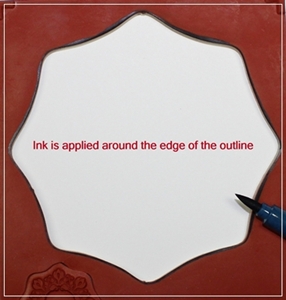 Stampin Up Products:
Stamp Set:  Daydream Medallions (c – 126467)
Paper:  Very Vanilla Card Stock, Gumball Green Card Stock, Real Red Card Stock, Midnight Muse Card Stock, and Candlelight Christmas Specialty Designer Series Paper (126901)
Ink:  Midnight Muse Stampin Write Marker, Real Red Classic, Gumball Green Classic, and Midnight Muse Classic
Accessories: Finishing Touches Edgelits Die (127010), Midnight Muse 3/8″ Stitched Satin Ribbon, and Vintage Faceted Designer Button
God's Blessings!
Stamping With Guneaux Designs