It is intended that the gorgeous Stampin Up Daydream Medallions Stamp Set (126467) be used with the wonderful Floral Frames Framelits (127012), right?  Being a person who tends to "think outside of the box", I did not use the Floral Frames Framelits to frame the Daydream Medallions image in the picture below.  The picture is of an element that I am using to make a greeting card.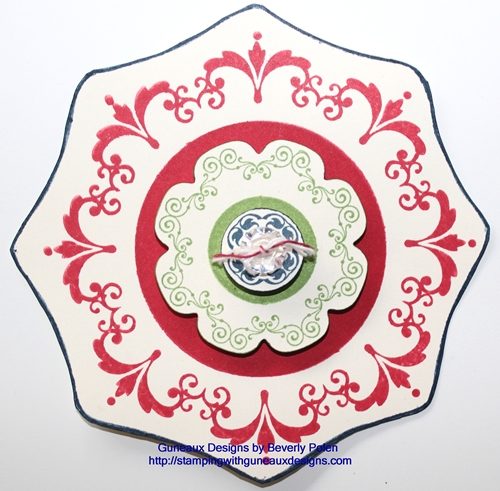 Looking closely, can you tell me how I made the frame around the Daydream Medallion stamp image?  If you have the Daydream Medallions stamp set, get it out and examine it closely and take a guess at how I framed the stamp image.  Leave your "guess" in the comments, and come back tomorrow to see the answer and the card that I made.
If I receive no guesses, I'll assume there is no interest in learning a new method for framing the Daydream Medallions.
If you don't have the Daydream Medallions stamp set, you can purchase it at my on-line shop.
Have a blessed day! 
God's Blessings!
Stamping With Guneaux Designs
by
Beverly Polen
Think outside of the box when creating your artwork, especially when using the Daydream Medallions stamp set.