Hello, stampers!  Are you having a good Wednesday?  I'm in my craft room creating and having fun.  Today's card share features the Stampin' Up! (SU) Secret Garden and Splitcoaststampers Color Challenge, CC575,  Blushing Blissful Brides ~ DO THE MACARON-A!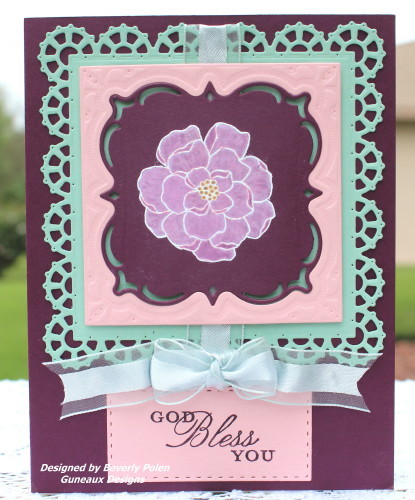 (Update:  This card was included in Splitcoaststampers Favorites for the week ending on March 27, 2016.)
The SU colors selected for the Color Challenge are Mint Macaron, Blushing Bride, and Blackberry Bliss
Creating this card took some time as it involves using SU's White Craft Ink as the initial layer of ink for the flower in the center.  This flower is from the SU Secret Garden Stamp Set.
I am not sure of the name for this technique, but I'll explain how I did it. Normally this technique is not used on a dark piece of card stock like Blackberry Bliss.  A craft color of card stock (i.e., Crumb Cake) is typically used.  However, I decided that I wanted to use the technique on a die cutout (i.e., ODBD Layered Lacey Squares) from Blackberry Bliss card stock.
To use the technique, I first covered the floral stamp with VersaMark Watermark Ink, added SU White Embossing Powder, and heat set it.  Using a dry Aqua Painter, I applied SU Whisper White Craft Ink over each petal, being careful to stay inside the embossed petals lines.  I allowed the Whisper White Craft Ink to dry before I used the SU Blushing Bride Marker to color the petals of the flower.  It took several layers of ink, and it's still not what I wanted.  However, I did the best I could.  That's all, folks – it's that simple, but time consuming!
Here are more photos: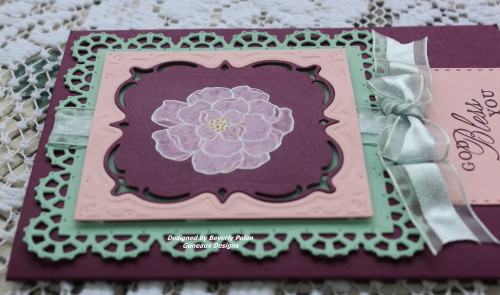 I had to include this poor quality photo below.  I was outside taking photos of the card when a breeze whipped up and blew my card over just as I was snapping the photo.  I caught the card just as it was falling.  A flying card makes a blurred photo.  LOL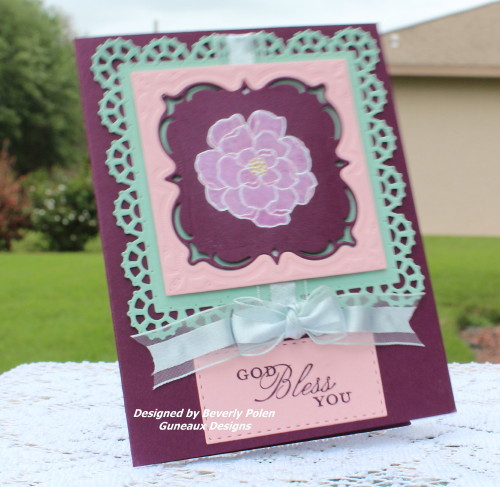 Enjoy and come back soon!

SUPPLIES:
Stamps:  SU Secret Garden and Trust God (sentiment)
Paper:  SU Mint Macaron, Blushing Bride, and Blackberry Bliss
Card Size:  A2
Ink:  VersaMark Watermark Ink, SU Whisper White Craft Ink, SU Blushing Bride Marker, SU Mint Macaron Reinker
Accessories:  SU White Embossing Powder, Heat Gun, ODBD Layered Lacey Squares, ODBD Double Stitched Rectangles,  SU Organza Ribbon (dyed Mint Macaron), and a dry Aqua Painter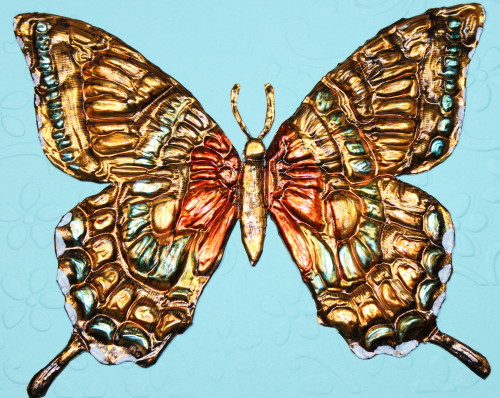 God's Blessings!
Stamping With Guneaux Designs by Beverly Polen
"Blessed is the one who perseveres under trial because, having stood the test, that person will receive the crown of life that the Lord has promised to those who love him"  James 1:12