Guneaux Designs 2017 Best Handmade Cards
As shared yesterday, I am looking back at Guneaux Designs 2017 best handmade cards and wanted to share them.  Today I am sharing three more cards with you.  These cards were also posted on Splitcoaststampers (SCS), Pinterest, and/or other sites.  The comments on SCS and Pinterest PINs is my guide on selecting the best cards.  You can click on the photos to get full details about them.
Here are the three best cards for day three:
 

HEARTFELT CREATIONS CLASSIC PETUNIA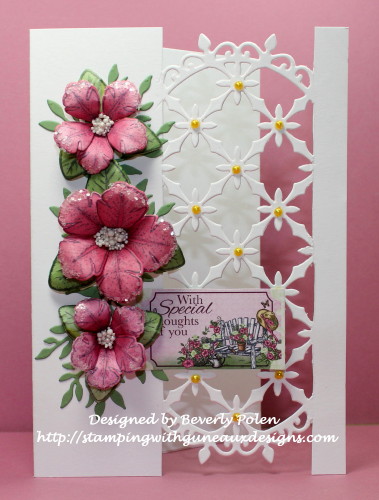 I posted this card on June 3, 2017.  Using SCS comments, Pinterest PINS, and views of the card, I have to consider this the BEST card of 2017.  As of this posting, it has received 2223 views on SCS, many comments on SCS, recognition as a favorite on SCS, and 431 Pinterest PINS.  The card features Heartfelt Creations products, and it was recognized by the company on its Twitter feed.  Actually, it has been pinned more than 431 times, and I have seen it on many Twitter feeds and Pinterest Boards.  If the card is posted to Pinterest from my SCS Gallery, which it was, I do not know how many times it was pinned because of Pinterest's recent change of not including the number of PINs for each card.
---
Revelations 20:1-3
"And I saw an angel coming down out of heaven, having the key to the Abyss and holding in his hand a great chain [word of God].  He seized the dragon, that ancient serpent, who is the devil, or Satan, and bound him for a thousand years.  He threw him into the Abyss, and locked and sealed it over him, to keep him from deceiving the nations anymore until the thousand years were ended.  After that, he must be set free for a short time."
---