Hello, my friends, and thank you for stopping by Guneaux Designs!  Have you seen the Heartfelt Creations Classic Petunia collection?  The collection is beautiful, and recently I fell in love with it and had to purchased the collection.  I am showcasing the Heartfelt Creations Classic Petunia collection by using the Small and Large Classic Petunia Stamp Sets and matching Dies on my beautiful card share for today.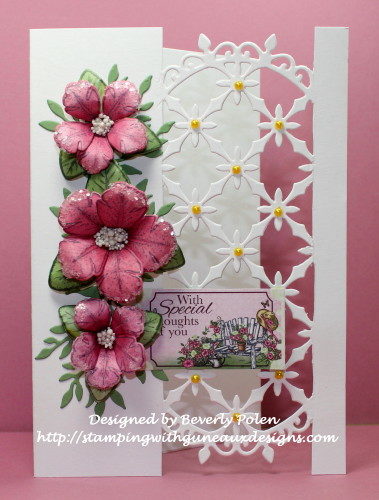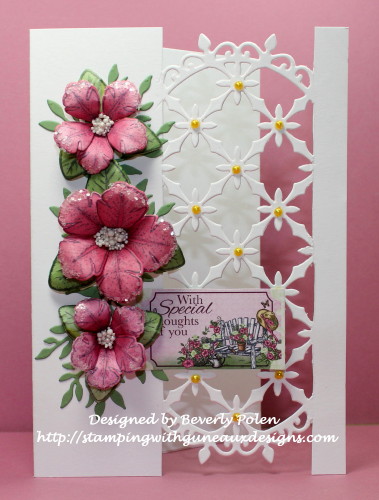 I created my card with a 6″ x 8-1/2″ piece of Neenah Solar White Card Stock that I folded to create a 4-1/4″ x 6″ card base.  I wanted to use the Heartfelt Creations Decorative Oval die to cut out a 2″ section of the front of the card base.  What a task that was!  But I was successful.  The key to achieving this is the placement of the cutting plates for my die-cutting machine. The bottom cutting plate is lined up differently from the top plate when running the card base and die through the machine.
After cutting the card base with the oval die, I cut out another 2″ Decorative Oval section from white card stock and attached that to the back of the card base oval, lining it up carefully!  I used 110 LB card stock; therefore, the second oval added additional support for the card.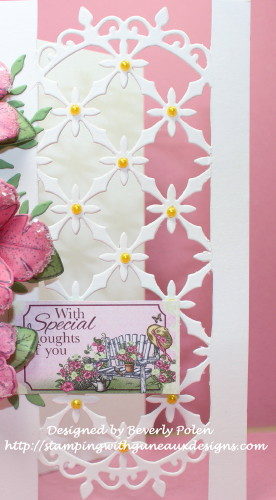 I used a yellow Copic Sketch Marker to color some SU Basic Pearls and attached them to the oval die cut, as you can see in the above photo.  The photo also shows the sentiment that is from the Heartfelt Classic Petunia Paper Collection.
My next step was to stamp, cut out, color, decorate, and assemble the small and large petunias.  I used the Heartfelt Creations Classic Petunia dies to cut out the petals and leaves from Neenah Solar White card stock and colored them with Copic markers closely related to the SU Sweet Sugarplum color.  This color was selected to response to a Splitcoaststampers Color Challenge (i.e., Sweet Sugarplum, Daffodil Delight, and Wild Wasabi).  After coloring and assembling the flowers, I added some SU glitter to the ends of the petals and White Prills to the centers.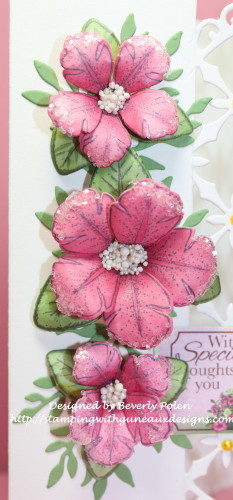 Then I attached the flowers to the left side of the card base.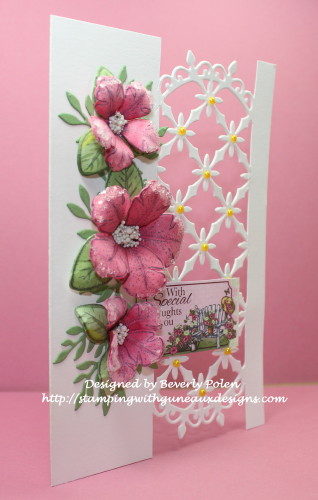 I hope you find inspiration from my Heartfelt Creations Classic Petunia card.  Here are a couple photos of the card taken at different angles.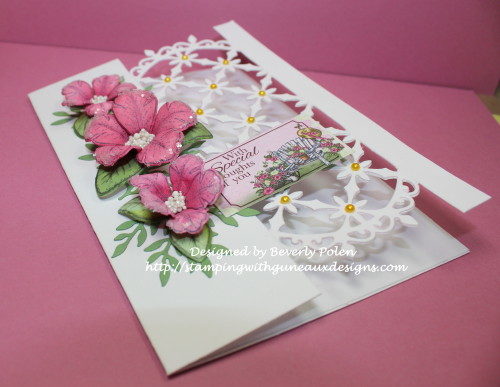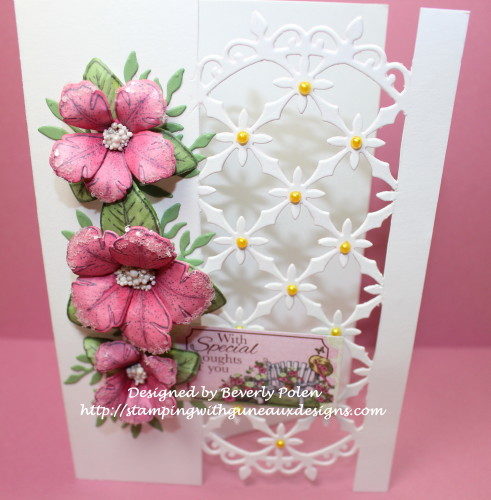 I also submitted this card for two other Splitcoaststampers challenges.  One is a sketch challenge, and the other a Ways To Use It Challenge (i.e., add pearls to a project).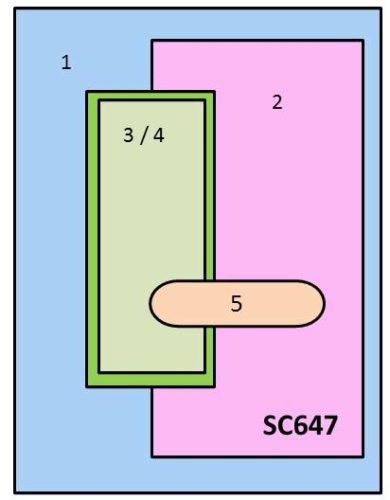 ---
---

God's Blessings!
Stamping With Guneaux Designs By Beverly Polen
Firm Reliance on Divine Providence!
---
1 John 3:1
"How great is the love the Father has lavished on us, that we should be called children of God!  And that is what we are!  The reason the world does not know us is that it did not know him."