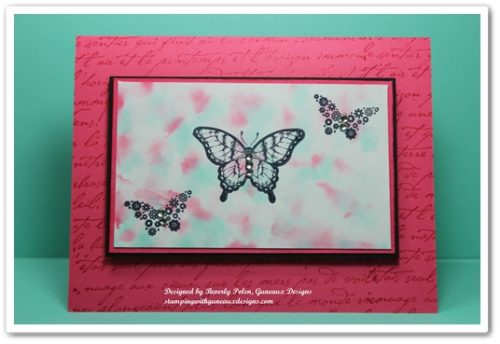 I suspect most crafters have tried the Polished Stone Technique.  However, this is my first time although the technique has been around for some time.  Polished Stone is a rich background technique that looks like rich marble.  It is an excellent background for both feminine and masculine cards.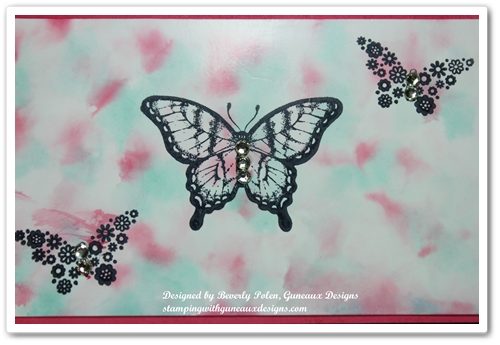 After looking closely at the above picture, can you tell that I left out one key product that most, but not all, crafters use for the Polished Stone Technique?   It is the metallic ink.  I have seen examples of this technique where the metallic ink was used and examples where it was not used.  Well, I left it out because I did not have any metallic ink.  However, I'll provide you with the instructions that include the ink.
---
SUPPLIES USED FOR THE POLISHED STONE TECHNIQUE:
Paper:  Glossy White Card Stock (I used Stampin' Up!'s), Strawberry Slush Card Stock (131295), and Basic Black Card Stock (121045)
Stamps:  Papillon Potpourri Stamp Set (123759) and Stampin' Up!'s old French Script Background Stamp
Ink:  Coastal Cabana Classic Ink Re-Inker (131164), Strawberry Slush Classic Ink Re-Inker (131167), and Stazon Ink
Accessories:  Cotton Ball, Rubbing Alcohol, and Basic Rhinestones (119246)
---
INSTRUCTIONS FOR THE POLISHED STONE TECHNIQUE:
Add a few drops of metallic re-inker randomly onto glossy card stock.
Add rubbing alcohol onto a cotton ball.
Add two or three drops of each classic re-inker color onto the cotton ball.
Dab the cotton ball over the glossy card stock, continuing until you achieve the desired look.  The rubbing alcohol will cause the re-inker colors to blend together, and the metallic re-inker will sit on top of the re-inker colors to give a marble look.
Allow the card stock to dry, and if desired, seal it with an acrylic sealer.
Stamp the desired image onto the "marbled" card stock with Stazon Ink.
Create your card!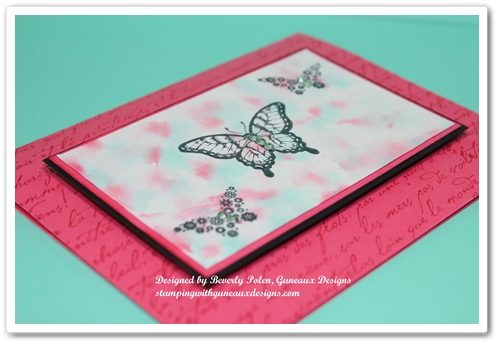 This card can be a Happy Birthday, Happy Anniversary, Thinking of You, Thank You, or any type of card.
---

 God's Blessings!
Stamping With Guneaux Designs
by
Beverly Polen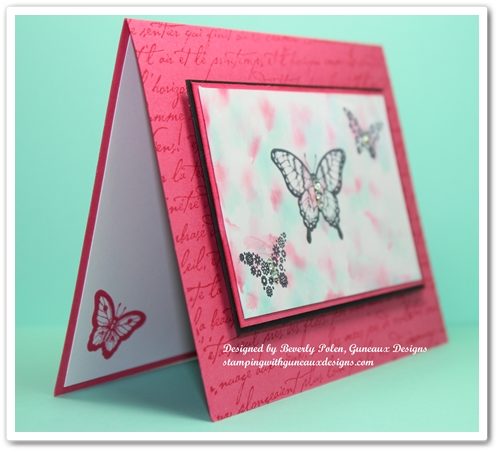 POLISHED STONE TECHNIQUE