Do you have a valentine die that you love?  I do!  It's the Taylored Expressions Floating Heart Cutting Plate.  I am curious about the product being called a "plate" as it cuts out hearts from a piece of card stock and is used just like other dies.  For it to be a plate, I would think that it would be a thin, solid "plate".  Regardless, the plate cuts card stock pieces that can be used four or more ways:
a frame that is the negative of hearts that can also be used as a stencil,
a frame with the hearts remaining within the frame,
hearts without the frame that can be used in various ways, and
an embossed heart frame.
I am sure that other crafters will come up with many ways to use it; however, for my card share today, I used the Taylored Expressions Floating Cutting Plate to cut a frame with negative hearts.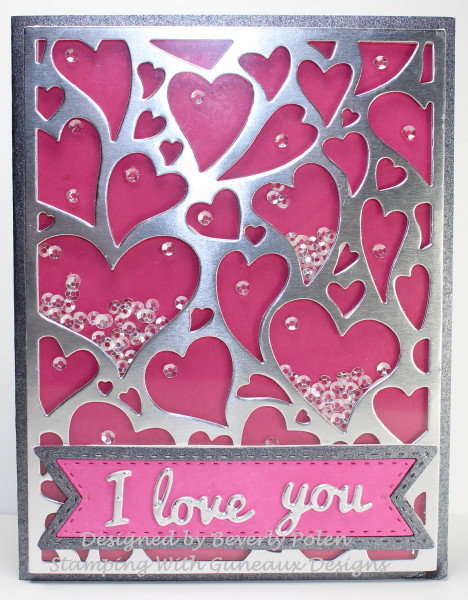 I created a shaker card with the floating hearts frame that I cut out using Silver Foil.  I had a piece of inspiration that influenced me in making this card.  This is my inspiration piece. It is a Pandora Charm and I love it.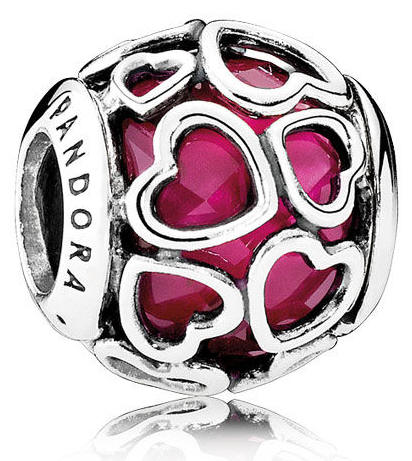 I love the raspberry color of the charm; therefore, I wanted a raspberry color for my first panel (i.e., background) on the card.  I used SU Rose Red and Pixie Pink inks and sponged them on a piece of Solar White card stock.  I sponged and sponged the inks on the panel and still didn't get the deep raspberry I wanted.  I guess I used the wrong colors.  Regardless, I'm happy with it.
I wanted three of the hearts to form the "shaker" portion of the card.  But I also wanted sequins for most of the hearts.  Therefore, I laid the foil panel over the raspberry panel and carefully adhered sequins to heart areas. Then I laid several sequins in the areas of the three hearts I chose for the "shaker" portion.
I cut a piece of a window sheet to the size of the silver hearts frame, and adhered it to the frame.
Now the fun part!  It was time to add the silver foil panel onto the raspberry panel. How exciting that was trying to get slivers of foam tape around the hearts!  But I managed.  I added "I love you" as the sentiment that is attached to a flag that was added at the bottom.
How did I do in representing the charm through a card?  Feedback is always welcomed!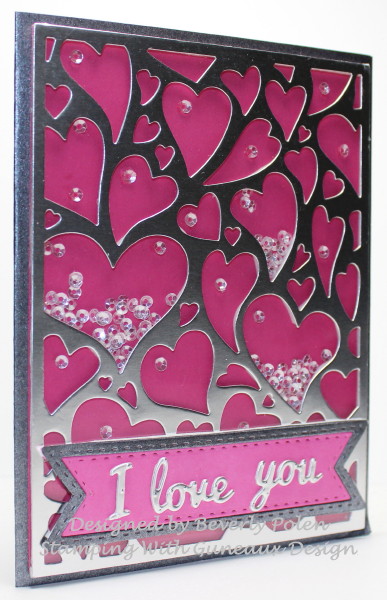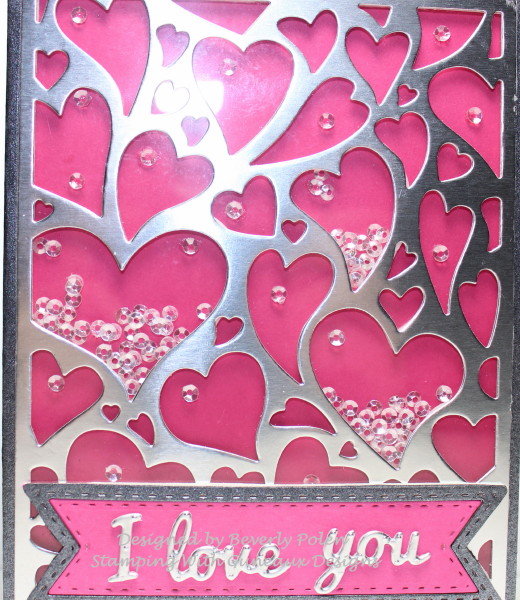 ---
Paper: Solar White Card Stock, Silver Foil, and Black Glitter Card Stock
Ink: SU Rose Red and Pixie Pink
Accessories: Taylored Expressions Floating Hearts Cutting Plate, CottageCutz I Love You Die, ODBD Double-Stitched Pennant Flags Dies, Sequins, Double-Sided Foam Tape, Double-Sided Adhesive, Window Sheet
---
2 CORINTHIANS 12:7-9
Apostle Paul's Thorn In His Flesh:  "To keep me from becoming conceited because of these surpassingly great revelations, there was given me a thorn in my flesh, a messenger of Satan, to torment me.  Three times I pleaded with the Lord to take it away from me.  But he said to me, "My grace is sufficient for you, for my power is made perfect in weakness." "