I hope everyone had a blessed and safe New Year!  Mine was uneventful, which is just what I wanted.  Today's card features a water coloring technique and is a Happy Birthday Card that features the Stampin' Up! Bold Butterfly Framelits Dies.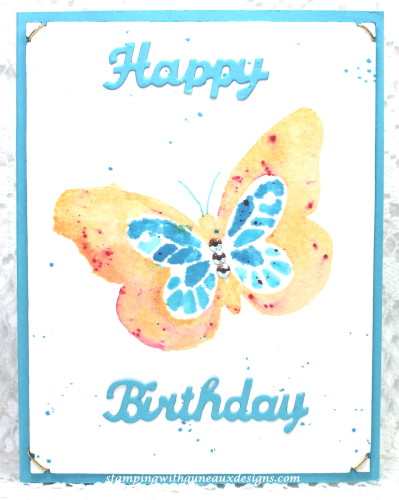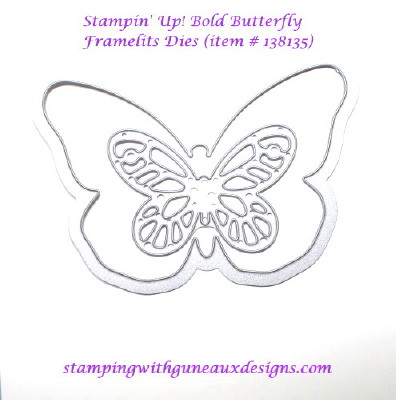 Have you ever been inspired to create a piece of artwork based on something you saw on a website (e.g., websites featuring jewelry, clothes, shoes, purses, etc.)?  It is a fun process, and that process was used for creating this card.
Yesterday's (1/2/15) Inspirational Challenge on the Splitcoaststampers.com website involved using punches or die cuts for a basic shape, and then picking a favorite medium and several colors to get a beautiful confetti effect. The Etsy.com website, The Wildlands, was to be viewed for inspiration.  This item inspired me to use the Stampin' Up! Bold Butterfly Framelits Dies (item #138135) to create my project.  Check out the site as you will find such beautiful artwork featured there.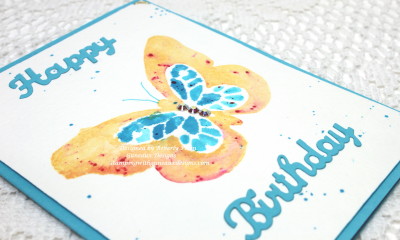 The Water Coloring Technique required using an adhesive tape (e.g., Frog Tape, a Painters' Tape) from which to punch or die cut an image.  After cutting out an image, what is left (i.e., the tape's negative cutout)  became a "mask" that is attached to a piece of water color paper.  After attaching the mask, the image is to be water colored.
A better explanation of the technique can be found in this YouTube video by Lydia (aka; Understand Blue) who was the wonderful hostess for this challenge.  Her video provides a wonderful tutorial on the technique.  Stop by and watch it.
This is a closeup of the water colored butterflies.  Unfortunately, I didn't have my tape adhered correctly to my piece of water color paper, so the colors bled.  🙁  But, I gave it my best shot as water coloring is not my forta.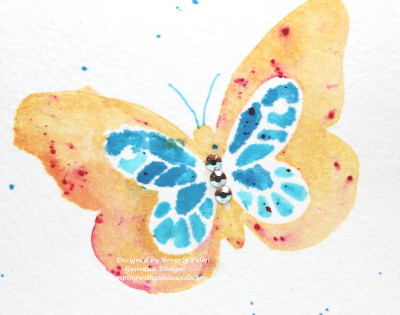 I added three Swarovski® crystals to the butterfly body to give it some dimension.
The photo below is one of the inside of the card.  I added some doodling along with stamp images from Stampin' Up! Papillon Potpourri Stamp Set (item # 123759).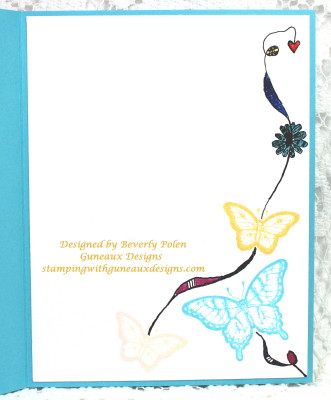 Don't forget to watch Lydia's video and try the technique!
---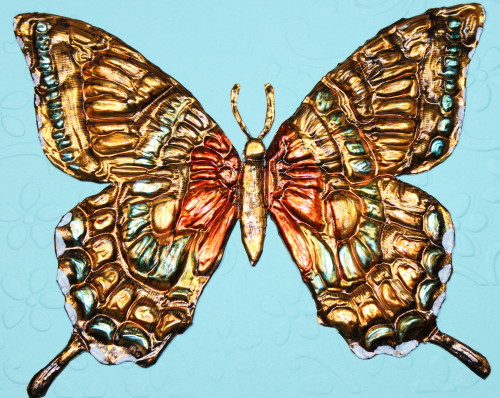 God's Blessings!
Stamping With Guneaux Designs By Beverly Polen