Essentials by Ellen has some fantastic stamps and matching dies.  Her Otterly Awesome stamp set and matching die are so adorable!  I am sharing a card I made that showcases the Otterly Awesome stamp set.
But first, I want to share that my two-year old granddaughter LOVES to craft with me, and I LOVE spending time with her crafting.  She and I have been crafting together since she was a little over one-year old.  She is amazing and has learned so much in that short time. She knows how to put paper and a die onto my die-cutting machine and turn the handle to cut out the items.  I could fill this post with information about her crafting skills, but I will stop.  But I will say that one day she will be a fantastic card maker.  You can see one of her cards at the bottom of this post.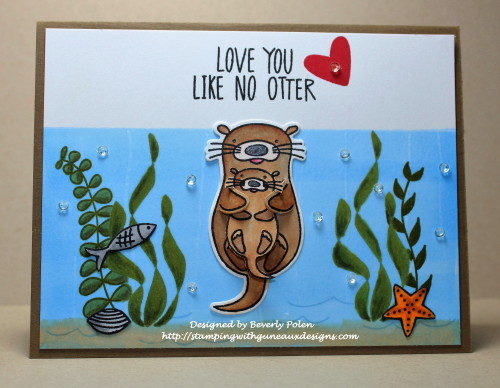 Aren't the otters so cute!!  Mommy otter is holding her little otter baby while enjoying the water in this ocean scene.  When die cutting the mommy otter, her arms are cut so she is able to hold her little one.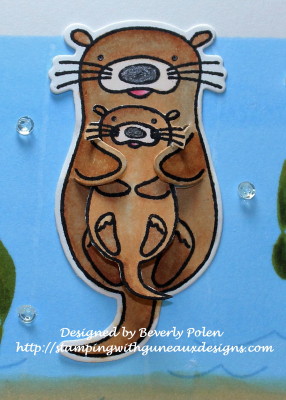 To make this card, I:
Stamped, colored, and die cut the two otters,
Placed the baby otter in mommy otter's arms, popping up the baby with foam dots to give it some dimension,
Stamped, colored, and die cut the fish, starfish, and clam shell,
Used the Otter Ware Stamp Set to stamp and color the seaweed onto a white card stock base,
Used copic sketch markers to color the ocean,
Attached the otters to the card base,
Stamped the sentiment using stamps from both stamp sets, and
Added sequins to the card.
I enjoyed making this fun card, and my granddaughter loved the stamps and dies also. She created the following card.  I sponged some color onto the card base for her, and she selected, stamped, die cut, colored, and attached the items where she wanted them.  If you have never seen a pine tree in an ocean, you can now say you have!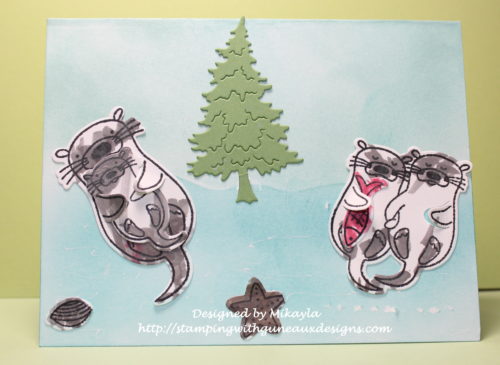 I hope you are having a wonderful Memorial Day weekend remembering the ones who have defended our great country, the USA, and sacrificed their lives so we could have freedom!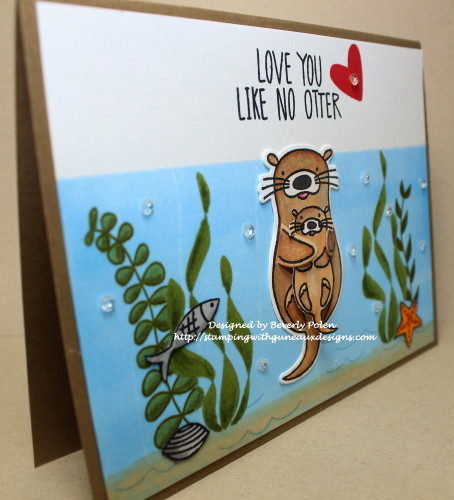 ---
---

God's Blessings!
Stamping With Guneaux Designs By Beverly Polen
Firm Reliance on Divine Providence!
---
1 Thessalonians 4:13  & 14
"Brothers, we do not want you to be ignorant about those who fall asleep, or to grieve like the rest of men, who have no hope.  We believe that Jesus died and rose again and so we believe that God will bring with Jesus those who have fallen asleep in him."