HONEY BEE LITTLE PICKUP STAMP SET
Have you seen the Honey Bee Little Pickup Stamp Set?  I think it is adorable!  The stamp set has matching dies as well.  My card share today features three stamps from the set: 1) the pickup, 2) wooden rails for the truck bed, and 3) hearts.
Before explaining the card, let me share why I have not posted any artwork for several days.  My precious sister passed away on January 10th, and that has occupied my mind and time.  It has been a very emotional time for me so I decided I needed to create a card to get my mind refocused.  Thus, I created this card that I'm sharing.
The card does not include a sentiment; however, it will be a get well card / valentine card for my brother-in-law who just had major surgery and ended up in the ICU.  Yes, there has been a lot of emotional things going on in my life, but I am trying to get back to creating and posting.
On to the card.  I decided to create a scene for the pickup.  I used Neenah Solar White Card Stock on which I created the scene.  After stamping and coloring the truck with various Copic Sketch Markers (i.e., BG10, BG11, and GB23), I masked it to include the wooden rails in a brown ink.  I then masked the rails to include the hearts and colored them with Copic Sketch Markers (i.e., R27, R29, and RV25).  I added two pieces of card stock, one green and the other gray.  The green is for a grassy, sloped  berm, and the gray for a road on which the truck is traveling.  I used the Lawn Fawn Stitched Hillside Borders Dies for the two pieces.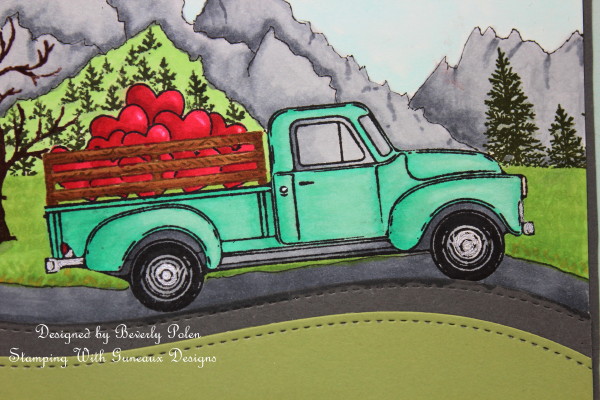 I created the tree in the foreground with a tree stamp from the retired Stampin' Up! (SU) Happy Scenes Stamp Set.  I used the same stamp set to create the pine trees in the background of the scene.  I hand drew the mountains in the background and colored them with grayish Copic Sketch Markers.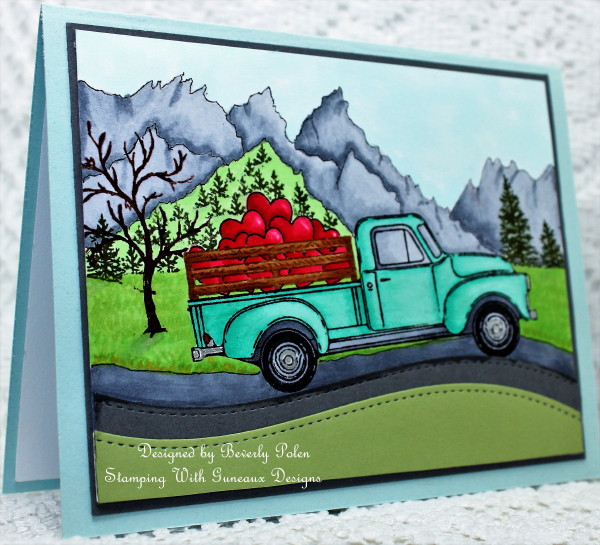 Creating this card featuring the Honey Bee Little Pickup Stamp Set was a lot of fun!  I hope you are inspired!  I am submitting the card for the Splitcoaststampers Featured Stamper Challenge.  Carolyn (snowmanqueen) on SCS is the featured stamper.  She has a wonderful gallery of cards.  You can check them out here.
---
---

God's Blessings!
Stamping With Guneaux Designs By Beverly Polen
Firm Reliance on Divine Providence!
---
ROMANS 1:18-20 (NIV)
"The wrath of God is being revealed from heaven against all the godlessness and wickedness of men who suppress the truth by their wickedness since what may be known about God is plain to them, because God has made it plain to them.  For since the creation of the world God's invisible qualities—his eternal power and divine nature—have been clearly seen, being understood from what has been made, so that men are without excuse."