Do you consider yourself a "techy" kind of person?  If so, what is the technology you use the most?  Technology has grown by leaps and bounds, and it seems to change daily. Creating a techy card was a challenge for Monday's Splitcoaststampers Techy Challenge.  This challenge was to "include some type of technology/electronic on a card, or use  technology to create a card".  I submitted this "get well" card below for the Splitcoaststampers Techy Challenge.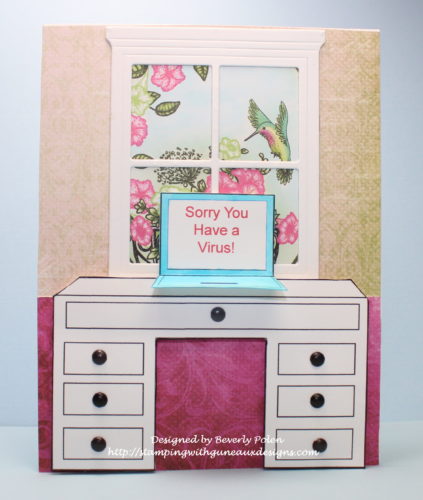 I used Microsoft PowerPoint (PP) to create the desk, computer, and sentiment on the card. To create the desk and computer, I used the the PP "Insert" "Shapes" functions to create many lines to form the shapes.  I am happy with the outcome.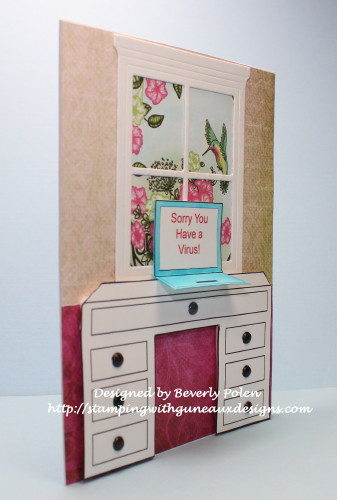 I  fussy cut the desk and computer and added black brads for the desk drawer knobs. Then I added designer paper from the newly released Heartfelt Creations Classic Petunia Paper Collection to the card base.  Afterwards, I used the Stampin' Up! Hearth and Home Framelits to cut out a window from white card stock.  I attached another piece of the designer paper to the back of the window to create a scene outside of it.  I attached that to the card base.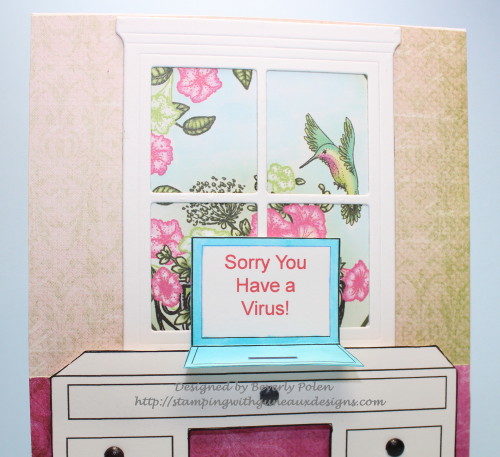 Then I added foam tape to the desk and computer and attached them to the card.  I had so much fun creating this card, and I hope you enjoy it!
---
---

God's Blessings!
Stamping With Guneaux Designs By Beverly Polen
Firm Reliance on Divine Providence!
---
Matthew 6:1
Jesus said, "Be careful not to do your 'acts of righteousness' in front of others, to be seen by them.  If you do, you will have no reward from your Father in heaven."