IF THE SHOE FITS, WEAR IT
Have you heard the odd saying, "If the shoe fits, wear it"?   The saying is used as a way of suggesting that someone should accept a generalized remark or criticism as applying to him/herself.  It can be interrupted as sarcasm, but there is a lot of truth to the saying.  If someone is sharing information that seems to fit our behavior, we need to own it, right?  I think so!
To that end, I am sharing a card I created recently for a "Free For All Challenge" hosted by Splitcoaststampers.  The challenge was to make a card that reflects an odd saying like "Happy as a clam", "In the pink", "Two peas in a pod", and so on.  I decided to enter the challenge with this card representing the odd saying, "If The Shoe Fits, Wear It".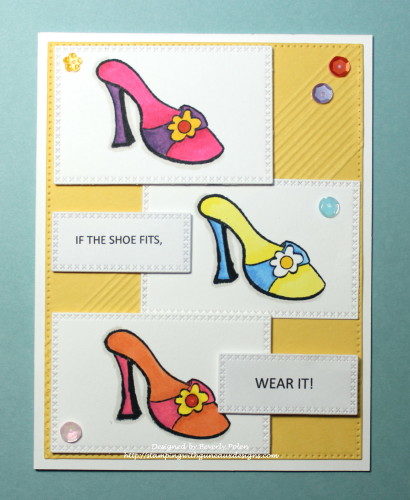 As I read the challenge, my mind started clicking off a lot of odd sayings when "If The Shoe Fits, Wear It" came to mind.  I remembered a OLD stamp I have of a shoe, and decided it would be perfect.  Therefore, I stamped it three times on white card stock, colored the shoe images with copics, and cut them out with a die.
I used a die from the CottageCutz Cross-Stitched Rectangle Set to cut out each shoe. I love the die set as I used to be one who cross stitched regularly.  It is a fun craft using counted-thread embroidery.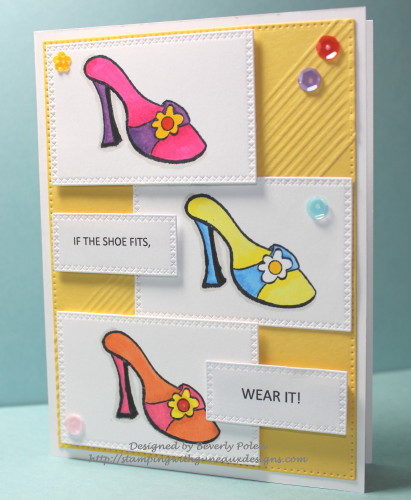 To assemble the card, I staggered the shoe frames (or boxes) on a piece of yellow card stock that I had cut out with a die from a ODBD Pierced Rectangles Dies and scored with a scoring tool.  I created the sentiment, "IF THE SHOE FITS, WEAR IT!" digitally, cut it out using the same CottageCutz Cross-Stitched Rectangle Set, and attached to the card front.  Lastly, I added a few sequins.
I hope you enjoy the card and will return for other Guneaux Designs projects!  If you are a Christian, I hope you have a wonderful Easter weekend!
---
---

God's Blessings!
Stamping With Guneaux Designs By Beverly Polen
Firm Reliance on Divine Providence!
---
 LUKE 24:45-47
"Then he opened their minds so they could understand the Scriptures.  He told them, "This is what is written:  The Christ will suffer and rise from the dead on the third day, and repentance and forgiveness of sins will be preached in his name to all nations, beginning at Jerusalem."