Have you heard of the Card Making Tapestry Technique?  I had not until this week when I was responding to a Splitcoaststampers Technique Lovers Challenge to create a project using the Card Making Tapestry Technique.  A video tutorial for the  Card Making Tapestry Technique was provided, and its instructions were basically as follows.
Sponge distress inks onto a piece of white card stock, blending the colors.
Before the ink dries, use a white pigment ink and stamp an image(s) over the colored card stock.
Cover the complete card stock panel with a clear embossing powder and heat set.
If the ink dries too quickly, stamp a VersaMark Ink Pad over the complete piece of card stock and heat set.
This is the card I created for the Card Making Tapestry Technique challenge.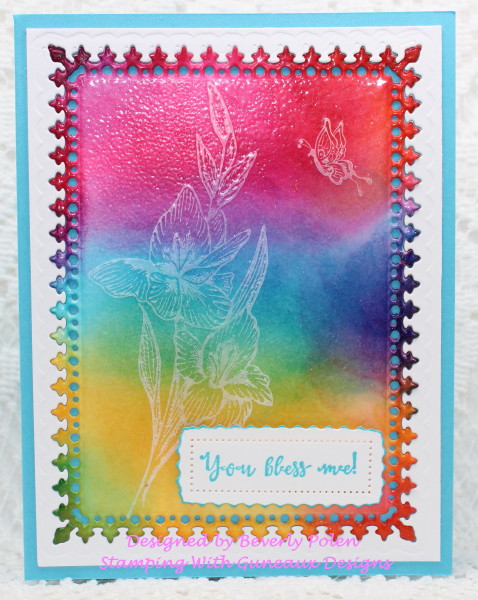 That should be easy, right?  Now, the real story.  When I stamped my images in SU Whisper White Pigment Ink (or Craft) onto the distress inked panel, the images would not show up. I do not know why, but others had the same problem.  Thus, my first panel was introduced to my trash.
Therefore, I started over.  I cut a white card stock frame using the ODBD Lavish Layers Die.  I decided to try Catherine Pooler's new inks to cover the frame.  They are great, luscious inks and it took very little to sponge the colors onto the frame.  Using the Whisper White ink, I stamped my images onto the colored frame.  The pigment ink showed and I covered the images with clear embossing powder and heat set it.  However, the inks dried too quickly for the rest of the frame and the embossing powder did not stick.
No big deal, right?  I covered the complete panel with VersaMark Ink, added clear embossing powder, and heat set it.  I finished the card by laying the colored frame into the negative of the frame and adhered this to a SU tempting turquoise card base.  I want to try this technique again with different colors.  Why don't you try it!  Enjoy!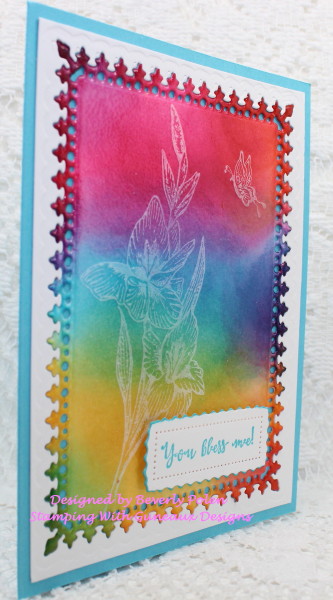 ---
Stamps: ODBD You Bless Me
Paper: Neenah White Card Stock and SU Tempting Turquoise
Ink: SU Whisper White, Catherine Pooler Party Dress, Fiesta Blue, and Tiara
Accessories: ODBD Lavish Layers Dies, VersaMark Ink, Clear Embossing Powder
---
MATTHEW 6:25-27
Jesus said:  "Therefore I tell you, do not worry about your life, what you will eat or drink; or about your body what you will wear.  Is not life more important than food, and the body more important than clothes?  Look at the birds of the air; they do not sow or reap or store away in barns, and yet your heavenly Father feeds them.  Are you not much more valuable than they?  Who of you by worrying can add a single hour to his life?"