COTTAGECUTZ AUTUMN CARD
Hello, my friends!  I had to take another break from Irma cleanup to make this CottageCutz Autumn Card.  My driveway is half full of debris from the storm, and it has yet to be picked up by the county.  I'm trying to be patient, but gee, it has been close to a month!  I'm sure they are working as fast as possible as there was a lot of damage in my county.  I just want to  see a clean driveway!!  On to the card.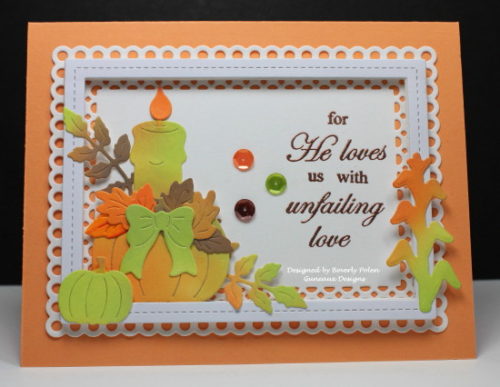 I did not know where to begin to create my card, so I decided to use two Splitcoaststampers.com challenges.  One is this week's Clean and Simple challenge, "Pumpkin Time", and the other the Color Challenge, "A Peach Twist with Espresso".
The "Pumpkin Time" challenge is to "show your take on a pumpkin theme".  The color challenge included three Stampin' Up! colors: