Have you ever painted stamps with brushos and stamped your images onto card stock?  Well, I had never painted stamps with brushos until this week.  But there is a L O N G story about my ordeal with using brushos, and if you're interested, keep reading.
There were two challenges for yesterday, Monday, on Splitcoaststampers.  So I made this card to submit for the two challenges: 1) TLC575 – Painting Stamps With Brushos – Hosted by Karen Dunbrook, and 2) CAS366 – Glittery Sentiment – Hosted by Holly (hbrown).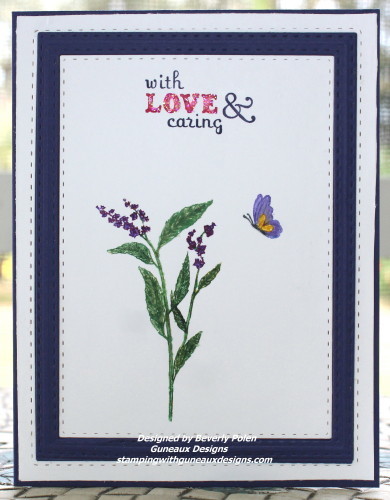 The easy challenge was to add glitter to a sentiment. I added a glitter glue to the word, LOVE, in my sentiment.  Hopefully you can see the sparkle, but if not, here's a closeup of the sentiment.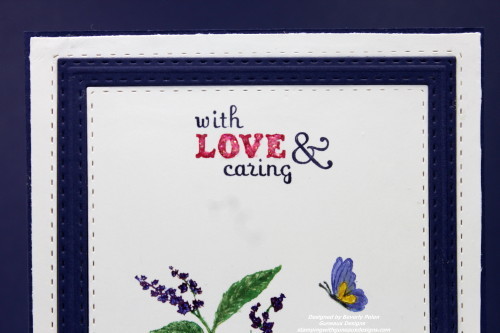 Now, on to what I considered a difficult challenge!  Painting stamps with brushos! This technique is a water coloring technique.  LOVE was NOT what I felt in responding to the challenge!!  First, I have NEVER used brushos, and I hadn't planned to for a while! Yes, I had brushos on hand, but I had them sitting in a drawer, untouched!!  When I read the details about the challenge, I hit the panic button! Yes, I did!!  Sure I could have passed up this challenge and waited on the next one. Well, you have to know me. I don't turn down a challenge!
So I first thought, "How in the world am I going to use brushos; I hardly know what they are!"  Then I told myself, "You're not one to be defeated; get those "things" out of the drawer and get to it".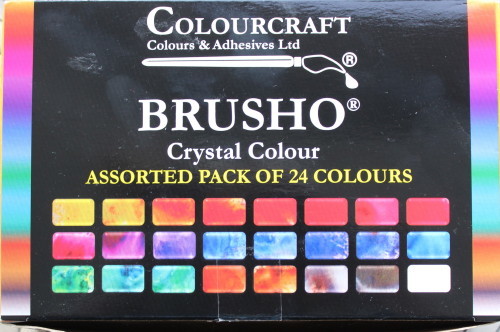 Well, I listened to "self", got out the brushos, opened the box, and stared at those little white containers. Then I thought, "I saw a Jennifer McGuire video recently and she said NOT to open the containers."  So, I wondered how am I to get to those "brushos"?  So I searched and searched to find that video again!  When I found it, that thing got watched over and over again.  Boy, does she make it look so easy. WRONG!!
As she instructed, I punched holes in the lids of those white containers and then looked at the name of the color on each container.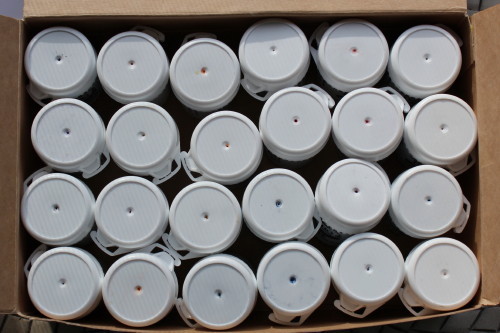 Boy, some of those names, like Gamboge!  I headed to my computer to look for a definition of Gamboge.  Well, the internet told me that Gamboge is a yellow pigment. OK, I can work with that, I thought.  So I tapped some crystals onto my acrylic block!  "What? That's not yellow!", was my thought.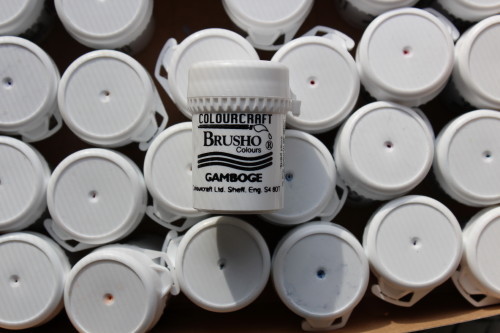 Yeah, I know, get to the point!!  Well the point to all of my rambling is to say I had a terrible time painting my stamps with brushos. I brushed brushos on so MANY stamps, stamped them onto watercolor paper, and through them in the trash. I thought that it was the size of the stamp that was defeating me. Determined to not be defeated, I thought, "Get out the smallest stamp you can think of and get brushing!"  So I did.
And this card is the result of two days of struggling, when I had time to struggle! Just remember that word "LOVE" in the sentiment on my card when commenting, please!! Thank you so kindly!
If you've never used Brushos, I really am not the person to teach you, or at least not at this point!!  But give me time!!  However, you can go to Jennifer McGuire's videos on YouTube.com, and you'll find plenty of instruction there.
Oh, one last thing, here's a photo of my acrylic block after finishing.  The pigment crystals dried up.  Add a touch of water and you can use them again.  How cool is that?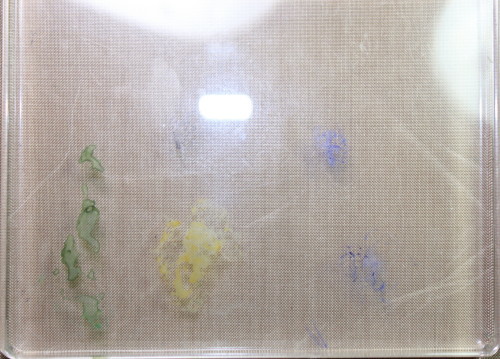 SUPPLIES:
Stamps: SU Thanks for Caring, SU Nature Walk
Paper: SU Whisper White and Concord Crush
Card Size: A2 
Ink: Brusho Crystal Colors, SU Rose Red Marker
Accessories: Brusho Crystal Colors, Water Color Brush, Acrylic Block, ODBD Double Stitched Rectangles, MISTI, and SU Dazzling Diamonds
Techniques: Painting Stamps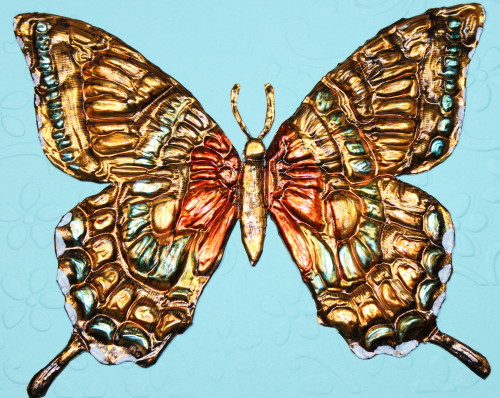 STAMPING WITH GUNEAUX DESIGNS BY BEVERLY POLEN
"Cast your cares on the Lord and He will sustain you; He will never let the righteous fall."  Psalm 55:22