Hello, my friends!  Thank you for stopping in to see my latest card featuring the ODBD Holly Night Nativity Scene.  I made this card for the Splitcoaststampers Falliday Fest Challenge, FF16UnderstandBlueB, to use the salted watercolor technique on a card (link to a tutorial is below).
I am s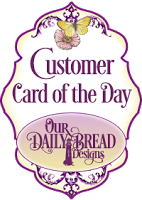 o blessed by Our Daily Bread Designs, Angie Crockett, as she selected this card for the ODBD Customer Card of the Day!  I am so grateful to ODBD for such an honor!!
---
Stamps: ODBD Delightful Decoration (sentiment)
Paper: Solar White, SU Glossy White, Basic Black, Silver Foil, and Brilliant Blue Card Stock
Ink:   SU Brilliant Blue, Ballet Blue, and Whisper White (sentiment)
Accessories: ODBD Holy Night Dies, Water, Silver Watercolor Brushes, Salt, and Foam Tape
Techniques: Salted Watercolor  (Click HERE for a tutorial)
---

God's Blessings!
Stamping With Guneaux Designs By Beverly Polen
---
Paul's Charge to Timothy:  "Command those who are rich in this present world not to be arrogant nor to put their hope in wealth, which is so uncertain, but to put their hope in God, who richly provides us with everything for our enjoyment.  Command them to do good, to be rich in good deeds, and to be generous and willing to share."  1 Timothy 6:17-18