Hola, my friends!  I have for you today an Explosion Heart Card!  Have you ever made one?  This is my first time, and I made it for a Technique Lovers Challenge on Splitcoaststampers.
If you are a Stampin' Up! (SU) consumer, do you remember this gorgeous Parisian Breeze Specialty Designer Paper (retired)?  It came out in 2009 and is a heavy double-sided Designer Series Paper (DSP).  The colors of the DSP are Baja Breeze, Chocolate Chip, and Kraft.  I used the paper to create my Explosion Heart Card!  This photo is the card closed with a ribbon.
This is the card's inside after it "explodes".  LOL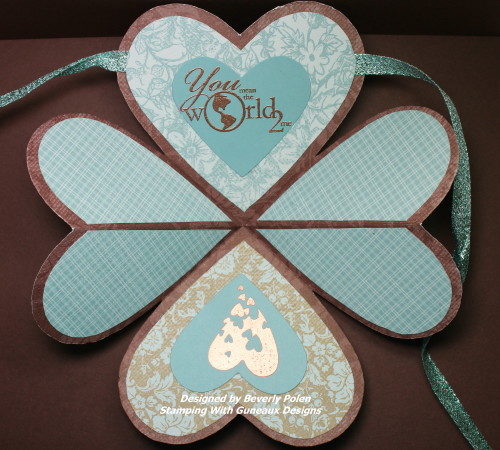 And, this is a photo of the lovely SU Parisian Breeze Specialty Designer Paper.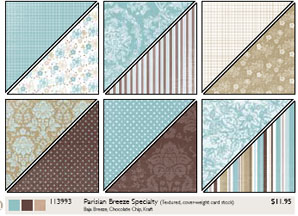 ---
UPDATE:  This card was selected as a Splitcoaststampers Favorite for the Week Ending July 17, 2016!
---
Here are the steps for creating an Explosion Heart Card:
Cut an 8-1/2″ square piece of the DSP (or card stock).
Score and fold the paper in half.
Unfold, score, and fold in half in the opposite direction.
Score and fold two corners together to form a triangle.
---
The first photo is the outside of the DSP after all of the folding, and the second photo is of the inside.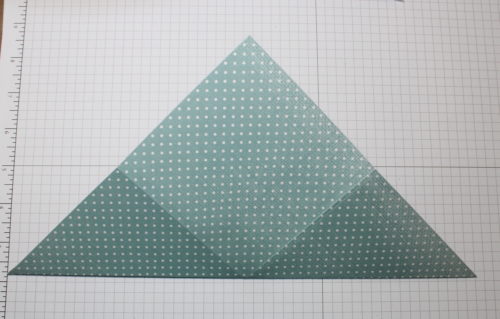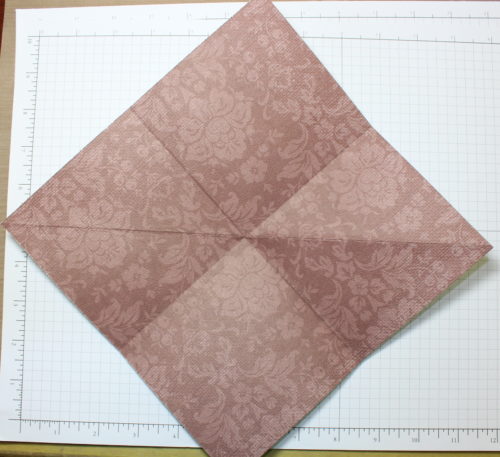 ---
Using your finger, push in the two corners of the triangle just created.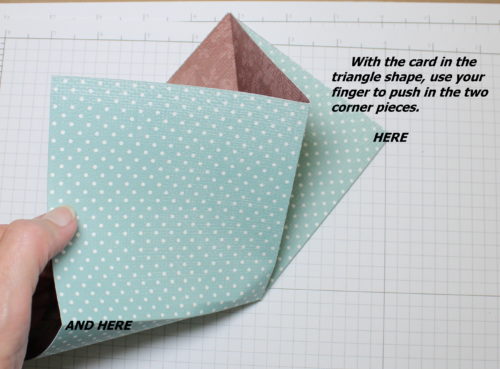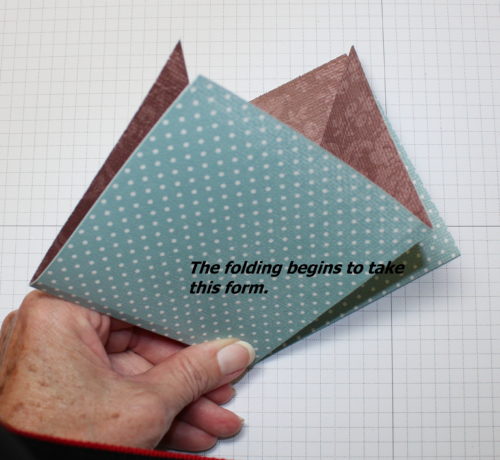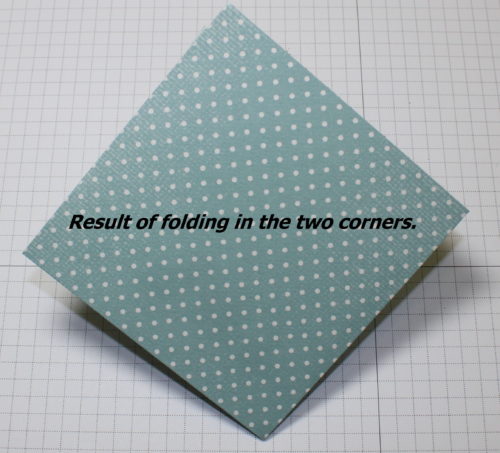 Using a heart shaped die or framelit (I used the next to the largest Stampin' Up!'s retired heart framelits), lay it onto the folded DSP to trace the heart onto the paper.
Place the die/framelit close to the bottom closed portion of the DSP, ensuring the open section is at the top.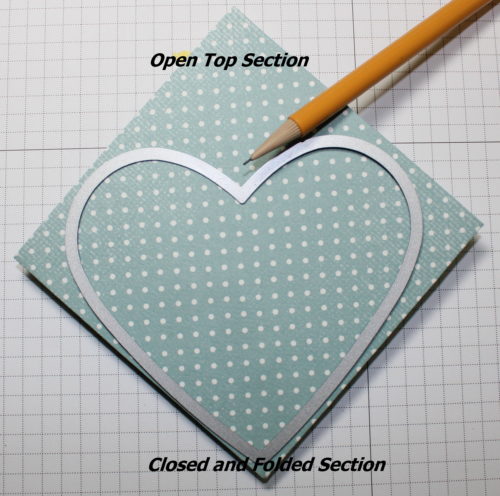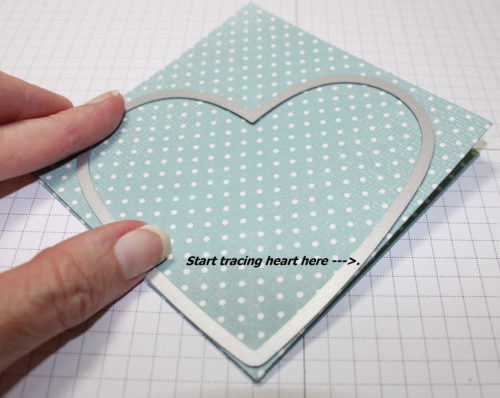 NOTE:  Don't trace the very bottom of the die/framelit as the bottom must stay folded and uncut.
Ensure your tracing starts and ends as shown.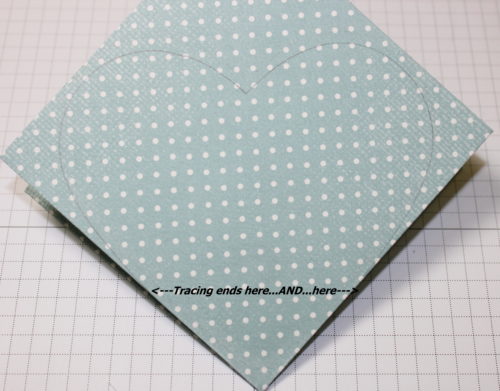 Using scissors, cut out the heart ensuring you're cutting through all the layers.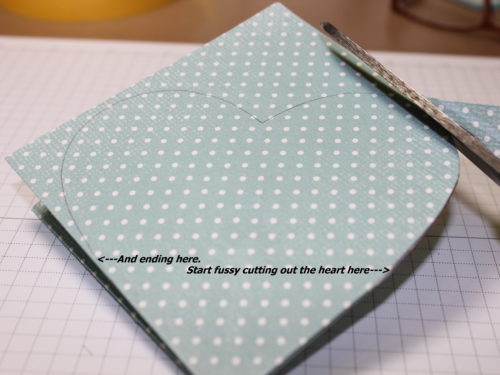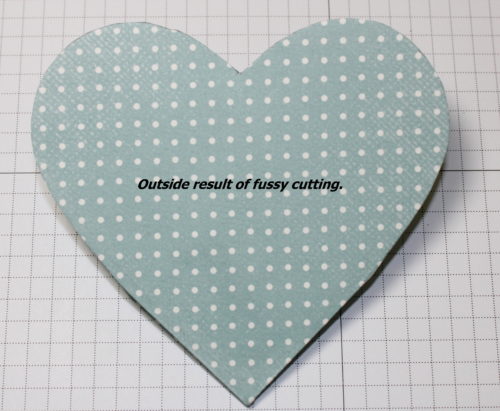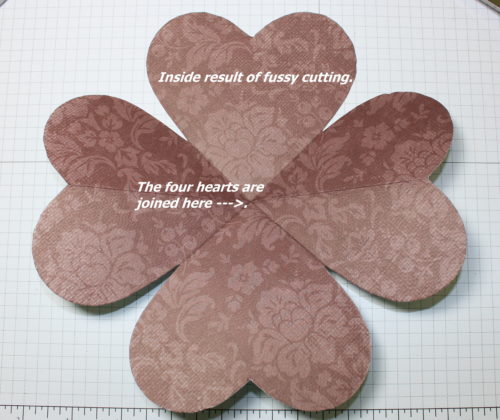 Decorate the outside and inside of your card as desired.  I added a ribbon to ensure the card stays closed.  If you add a ribbon, add it to the top heart BEFORE you adhere any decoration (e.g,. cardstock, etc.) to that heart.  Refer to the second photo above to see where my ribbon was added.
Enjoy your card!
If the instructions are confusing, PLEASE feel free to leave me a question or comment in the comments section or by email (address is in the header of the page).
---

God's Blessings!
Stamping With Guneaux Designs By Beverly Polen
"The Lord says: "These people come near to me with their mouth and honor me with their lips, but their hearts are far from me. Their worship of me is based on merely human rules they have been taught."  Isaiah 29:13