Hero Arts October 2017 Monthly Kit has the cutest stamps and beautiful specialty paper included!  The stamps are rather tiny but allow for making the cutest scenes.  You can find several videos on YouTube to give you ideas on how to use them.  Here is a card I made using the kit.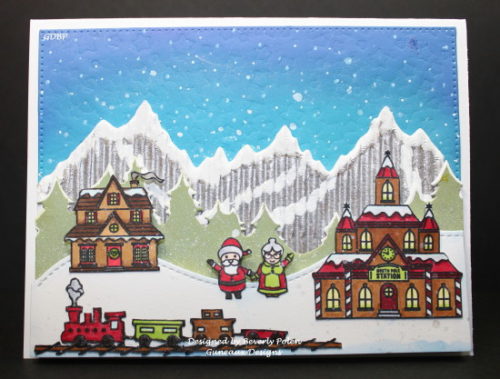 This card was created for two Splitcoaststampers challenges.  One was Jeanette's Falliday Fest Challenge, FF17ForestRanger, to find something to recycle on a project.  The mountains in the North Pole Station Scene was made from corrugated cardboard.  The second challenge was to fussy cut stamped images.  I fussy cut all of the images except the trees and mountains in the background.
---
Romans 1:24 & 25
Therefore God gave them over in the sinful desires of their hearts to sexual impurity for the degrading of their bodies with one another.  They exchanged the truth of God for a lie, and worshiped and served created things rather than the Creator — Who is forever praised.  Amen.  
---