Hello, friends!  Today I have a card share that I call, Wildflower Gate Happy Birthday Card.  The name comes from the embossing folder I used to create the card.  That is the Anna Griffin Wildflower Gate Embossing Folder.
I submitted my card for a Splitcoaststampers Clean and Simple Challenge for today that asks participants to "Think Spring".  What comes to your mind when you think of spring?  I think of flowers, especially daffodils and tulips.  However, my card does not feature daffodils and tulips, it features a variety of flowers.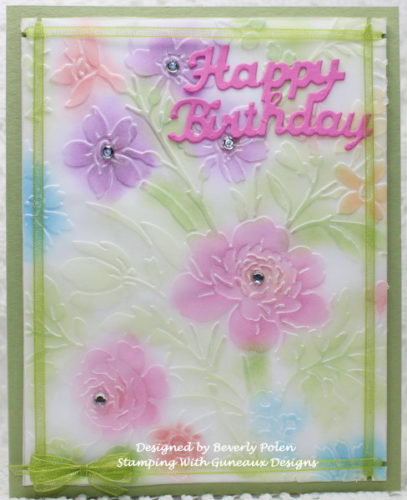 To create the card, I used the Wildflower Gate Embossing Folder to emboss a piece of Neenah White Card Stock.  Then I used sponge daubers to apply ink onto the raised portions of the panel.  I used five of Catherine Pooler's new inks:  Party Dress (pink), Flirty Fuchsia (purple), Something Borrowed (blue), Tiki Torch (orange), and Lime Rickey (lime).
After applying ink onto the floral images, I used the same embossing folder to carefully emboss a piece of vellum.  I aligned the two embossed pieces and attached them together.  I added rhinestones to some of the flowers and then used a corner punch for the four corners.  I then threaded a lime green ribbon around the card, adding a bow.  I finished by adding a "Happy Birthday" sentiment.  Now how clean and simple is that?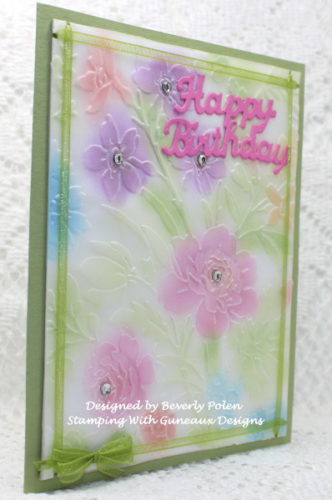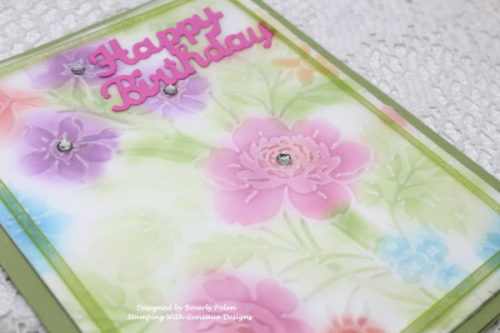 The Anna Griffin Wildflower Gate embossing folder is an old folder, and I cannot find a link online for you!
I hope you are inspired to use vellum in this manner, and you have enjoyed my Wildflower Gate Happy Birthday Card.
---

God's Blessings!
Stamping With Guneaux Designs By Beverly Polen
Firm Reliance on Divine Providence!
---
LUKE 24:45-49 
After Jesus was raised from the dead, he appeared before the Disciples and they were startled.  "Then he opened their minds so they could understand the Scriptures.  He told them, 'This is what is written:  The Christ will suffer and rise from the dead on the third day, and repentance and forgiveness of sins will be preached in his name to all nations, beginning at Jerusalem.  You are witnesses of these things.  I am going to send you what my Father has promised; but stay in the city until you have been clothed with power from on high."