SHIRT AND BOW TIE CARD
Did you know that Monday was the National Bow Tie Day?  I did not know until it was brought to my attention by a Clean and Simple Challenge on Splitcoaststampers.com.   The hostess challenged us to create cards with bows, and it was up to us to interpret the challenge.  Well, I created this Shirt and Bow Tie Card and submitted it to the challenge.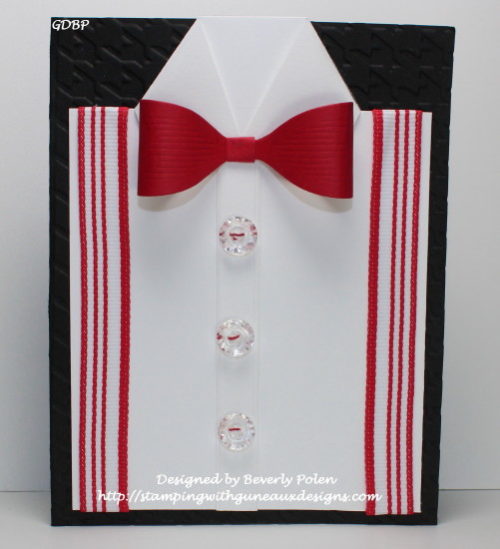 This card is a masculine card and could be given for Father's Day, New Year's Day, Birthdays, and many other occasions.  The card is quite simple to make. I simply used a 4″ x 5-1/4″ piece of white card stock, measured and marked at the 1″ mark down from the top of the paper, and cut toward the center on both ends, leaving about an inch uncut.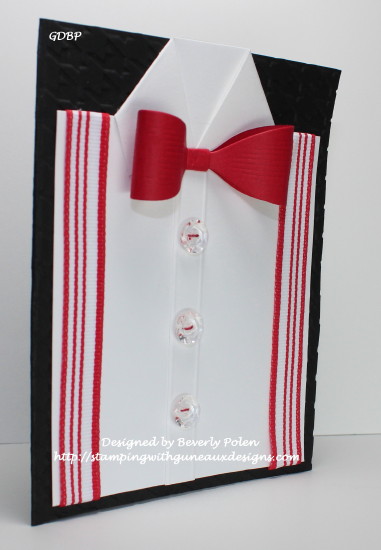 I folded the cut portions to form a collar for the shirt. I added the bow tie, buttons, and suspenders (i.e., ribbon) down both sides. I attached this to a Houndstooth embossed card base. How simple!!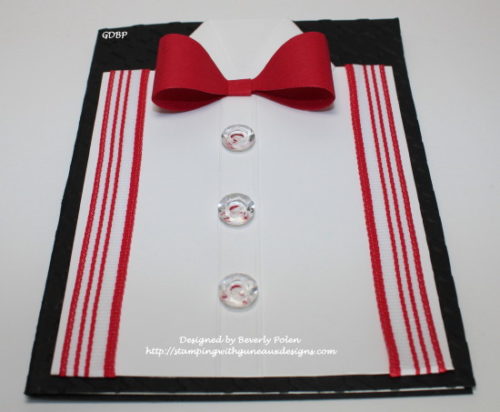 Paper: Neenah Solar White, SU Basic Black, & Real Red CS
Accessories: ODBD Medium Bow Die, SU Houndstooth EF, SU Ribbon, SU Buttons, SU Red & White Twine, Adhesive

God's Blessings!
Stamping With Guneaux Designs By Beverly Polen
Firm Reliance on Divine Providence!
---
James 5:13-16
"Is any one of you in trouble?  He should pray.  Is anyone happy?  Let him sing songs of praise.  Is any one of you sick?  He should call the elders of the church to pray over him and anoint him with oil in the name of the Lord.  And the prayer offered in faith will make the sick person well; the Lord will raise him up.  If he has sinned, he will be forgiven."