Penny Black On The Lake
I have for you today a card made with the Penny Black On The Lake stamp.  Penny Black makes gorgeous stamps, and I have had this stamp for many months and not used it.  I was not sure if I could make a nice card with it.  I decided to take a chance and see what I could create with it.  I think I made a beautiful card featuring the Penny Black On The Lake stamp.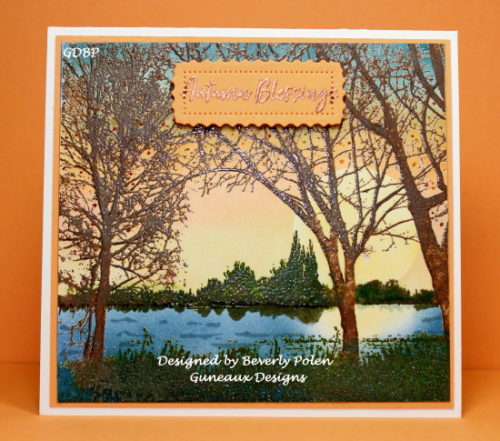 I wanted to use fall colors to create the card, so I used several Stampin' Up!'s (SU) inks (i.e., pads and markers).
---
Luke 10:18-20
Jesus said: "I saw Satan fall like lightning from heaven.  I have given you authority to trample on snakes and scorpions and to overcome all the power of the enemy: nothing will harm you.  However, do not rejoice that the spirits submit to you, but rejoice that your names are written in heaven."
---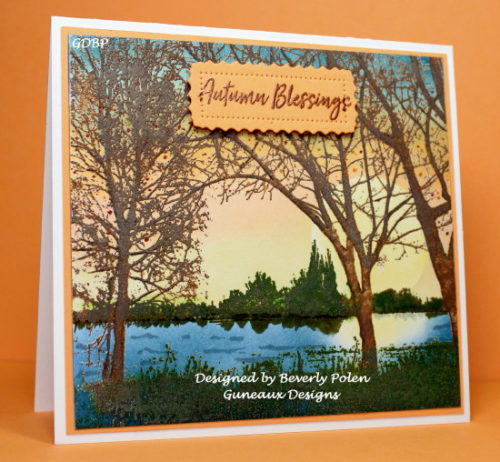 To create the card, I stamped the image in a brown ink and stamped it onto a piece of Neenah Solar White Card Stock.  Subsequently, I used SU markers to add addition browns to the trees in the forefront.  I used green ink on the grass and trees that are in the background.  When I got the colors I wanted, I covered the stamp with VersaMark Ink and restamped it.  I covered the VersaMark Ink with a clear embossing powder and heat set it.
My next step was to add additional colors to the image.  Having the clear embossing powder over the image allowed me to add more colors.  To create the sun, I cut a circular mask, used the negative to sponge on yellow ink, and then covered the sun with the positive of the circular mask.  I added the yellow ink just below the trees for a reflection in the water.
Then I sponged a blue, peach, and lighter yellow ink onto the background above the green trees.  I added blue to the water and a sentiment to complete the card!
Tell me what you think of the card!  Have a great weekend!
---
Stamps:  Penny Black On The Lake and Hero Arts Sentiment
Paper:  Neenah Solar White Card Stock, SU Peach Parfait Card Stock
Ink:  Various SU Ink Pads and Markers
Accessories:  Sponge Daubers, Be Creative Double-sided Adhesive
---

God's Blessings!
Stamping With Guneaux Designs By Beverly Polen
Firm Reliance on Divine Providence!