Sparkling Poinsettias
Every Saturday, the Splitcoaststampers site has an inspiration challenge.  Yesterday's challenge showcased the Agraria San Francisco website.  I selected the Lavender and Rosemary group for my inspiration, and this is the card I made using the Heartfelt Creations Sparkling Poinsettias stamp and die.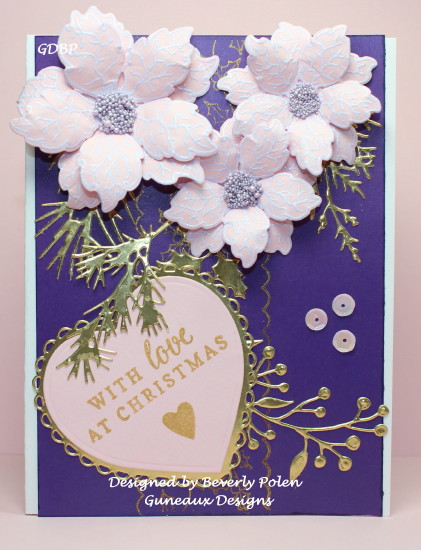 I'm not sure that it can be seen in the above photo, but I started my card by stamping two Holly Strips with Golden Glitz Pigment Ink down the center of the lavender panel. This was to represent the strips of a gold design in this picture.  It is obvious in the photo below.
---
Matthew 12:25-28 (Jesus and Beelzebub, the Prince of Demons)
Jesus healed a demon-possessed blind and mute individual and was criticized by the Pharisees who said that Jesus could only cast out demons by Beelzebub, the prince of demons.  "Jesus knew their thoughts and said to them, "Every kingdom divided against itself will be ruined, and every city or household divided against itself will not stand.  If Satan drives out Satan, he is divided against himself.  How then can his kingdom stand?  And if I drive out demons by Beelzebub, by whom do your people drive them out?  So then, they will be your judges.  But if I drive out demons by the Spirit of God, then the kingdom of God has come upon you."
---
---
Again, I used the Heartfelt Creations Sparkling Poinsettias Stamp and Die to create three poinsettias from SU Pink Pirouette paper.  I stamped the images with VersaMark ink and covered them with a lavender embossing powder and heat set them.  These poinsettias represent the flowers sitting on top of the Lavender and Rosemary AirEssence spray bottle in my inspiration piece.  That is why the poinsettias are at the top of the card.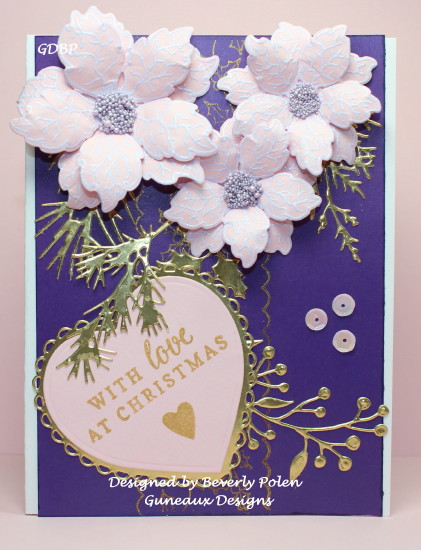 The lavender panel represents the Lavender and Rosemary AirEssence fragrance.  The remaining elements were added to enhance the card.  They are the eyelet heart and sentiment, gold greenery, and sequins.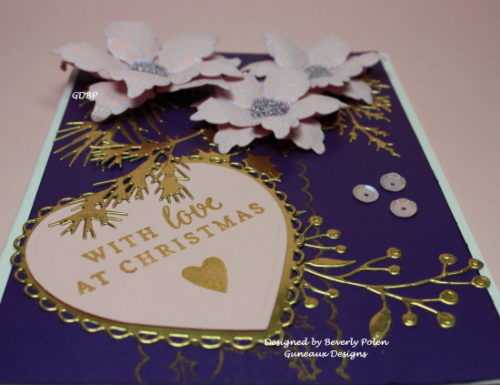 Thank you so much for stopping by and leaving me a comment!  
Stamps: Heartfelt Creations Sparkling Poinsettias, CP Candy Cane Lane, Outlines Holly Strip
Paper: Neenah Solar White, SU Pink Pirouette, ODBD Plum Pizzazz Paper, and Gold Foil Paper
Ink: Hero Arts Golden Glitz Pigment Ink, VersaMark Ink
Accessories: Heartfelt Creations (HFC) Sparkling Poinsettias Die, HFC Eyelet Hearts Dies, Tim Holtz Holiday Greens Dies, Lavender Embossing Powder, Lavender Prills, Sequins