Good afternoon!  I have another card to share with you today.  This card features the Stampin' Up! (SU) Eat Chocolate Stamp Set that retired years ago.  I created this card for the Splitcoaststampers Clean and Simple Challenge, CAS417, for today.  The challenge is to "show chocolate" on a project!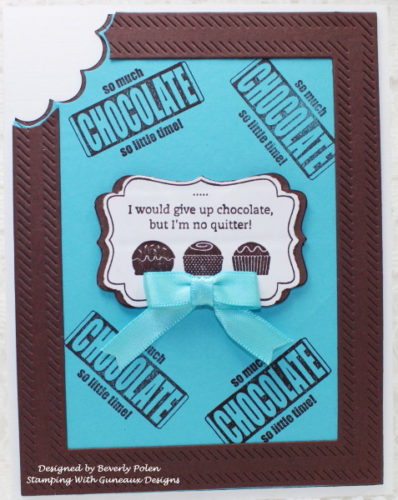 I have had this SU Eat Chocolate stamp set for years and had not used it until today. When I read the text of the Clean and Simple Challenge, I knew which stamp set I would use, but first I had to find it!  I catalog my stamps and store them in alpha order.  However, I could not remember the name of the stamp set, so I had to search to find it.  I have so many of Stampin' Up! stamp sets and many have not been used.  I used to be one a SU Demonstrator, and when catalogs were issued, I wanted everything in them.  Thus, I have sets that have never been used!  I guess that is a hazard of being an SU Demonstrator!
For the card, I decided to use SU Tempting Turquoise and Chocolate Chip card stock.  I love those two colors together.  I stamped the sentiment onto a piece of Neenah Solar White Card Stock in Chocolate Chip Ink.  I cut it out with a SU Decorative Label Punch, and also a Chocolate Chip Card Stock mat for the sentiment.  I tied a turquoise bow and attached it to the bottom of the sentiment.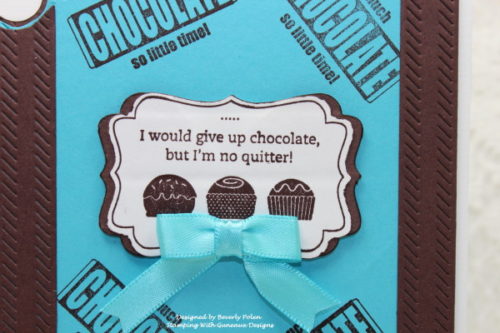 I then randomly stamped in chocolate chip ink another stamp from the set.  This stamp image says, "So Much Chocolate So Little Time!".  I wanted a chocolate chip border around the turquoise panel, and I created it with the lovely MFT In and Out Diagonal Stitched Rectangle Dies.  Before attaching each layer, I used a scallop circle punch to cut out the top left corner, which gives the appearance that someone took a bite of chocolate from the card.  LOL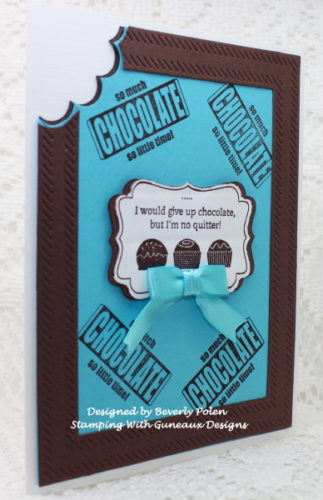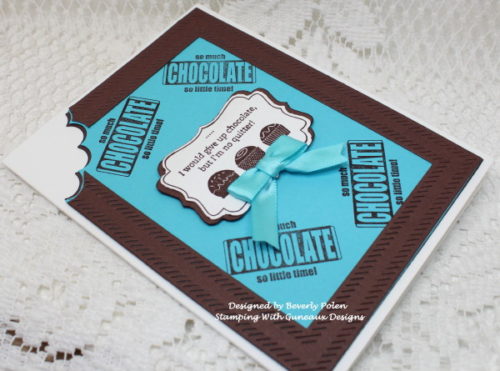 Thank you so much for stopping in and leaving comments about the card!
---
Supplies used that have not retired:
---

God's Blessings!
Stamping With Guneaux Designs By Beverly Polen
Firm Reliance on Divine Providence!
---
MATTHEW 7:24-28
While on a mountainside and teaching his disciples, Jesus said, "Therefore everyone who hears these words of mine and puts them into practice is like a wise man who built his house on the rock.  The rain came down, the streams rose, and the winds blew and beat against that house; yet it did not fall, because it had its foundation on the rock.  But everyone who hears these words of mine and does not put them into practice is like a foolish man who built his house on sand.  The rain came down, the streams rose, and the winds blew and beat against that house, and it fell with a great crash.  When Jesus had finished saying these things, the crowds were amazed at his teaching, because he taught as one who had authority, and not as their teachers of the law."