What does the word, strings, bring to your mind?  For me, it is my Dad's old Gibson Dove Custom guitar.  That thought generated this Guneaux Designs Strumming Guitar card.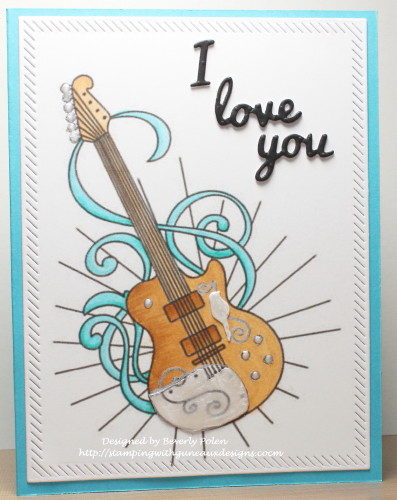 Why would the word strings come to my mind?  It is because today's Splitcoaststampers Clean and Simple Challenge was to think of strings when creating and submitting a card for the challenge.  The image showcased on this Guneaux Designs Strumming Guitar card is a digital image that I downloaded and colored.  I used Copic Sketch Markers in shade of browns and blues to color it.
I wanted to add a couple elements to the guitar that reminded me of my Dad's guitar, which I have now because of his passing.  The two elements are the bird on the right and the white panel at the bottom right of the guitar.  I added white Crystal Drops to these elements to give them the look of mother of pearl.  My Dad's guitar has a mother of pearl dove and other mother of pearl elements on it.  I thought the Crystal Drops would be perfect to replicate that.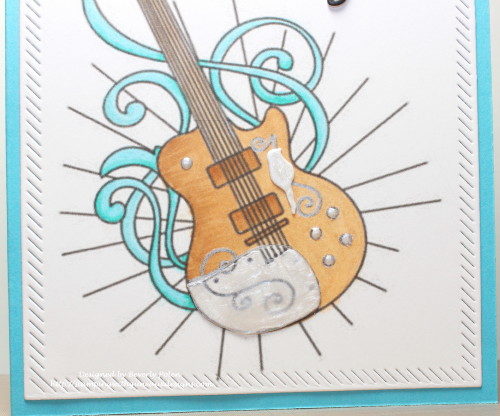 After finishing with the image, I used a die from My Favorite Things to cut the white panel, and attached it to a turquoise card base.  Because the Guneaux Designs Strumming Guitar card is a clean and simple one, that's all, folks!  Thank you for stopping by!
---
The primary supplies used for this card are:
---

God's Blessings!
Stamping With Guneaux Designs By Beverly Polen
Firm Reliance on Divine Providence!
---
MATTHEW 5:8-10
"Now when Jesus had entered Capernaum, a centurion came to Him, pleading with Him, saying, 'Lord, my servant is lying at home paralyzed, dreadfully tormented.' And Jesus said to him, 'I will come and heal him.' The centurion answered and said, 'Lord, I am not worthy that You should come under my roof. But only speak a word, and my servant will be healed… 'When Jesus heard it, He marveled, and said to those who followed, 'Assuredly, I say to you, I have not found such great faith, not even in Israel!' "