Hello, my friends!  I hope you are having a good day!  Thank you for stopping by to see my Wintertime Scene Birthday Card.  This card could be a Christmas card; however, I created it for my granddaughter who will have her 3-year old birthday next month.  She loves crafting with her Nana, using CottageCutz dies, the color pink, deer, etc.  Therefore, I kept that in mind when creating the card.  Before her birthday, I will add a Happy Birthday sentiment on the sign that is hanging from the post.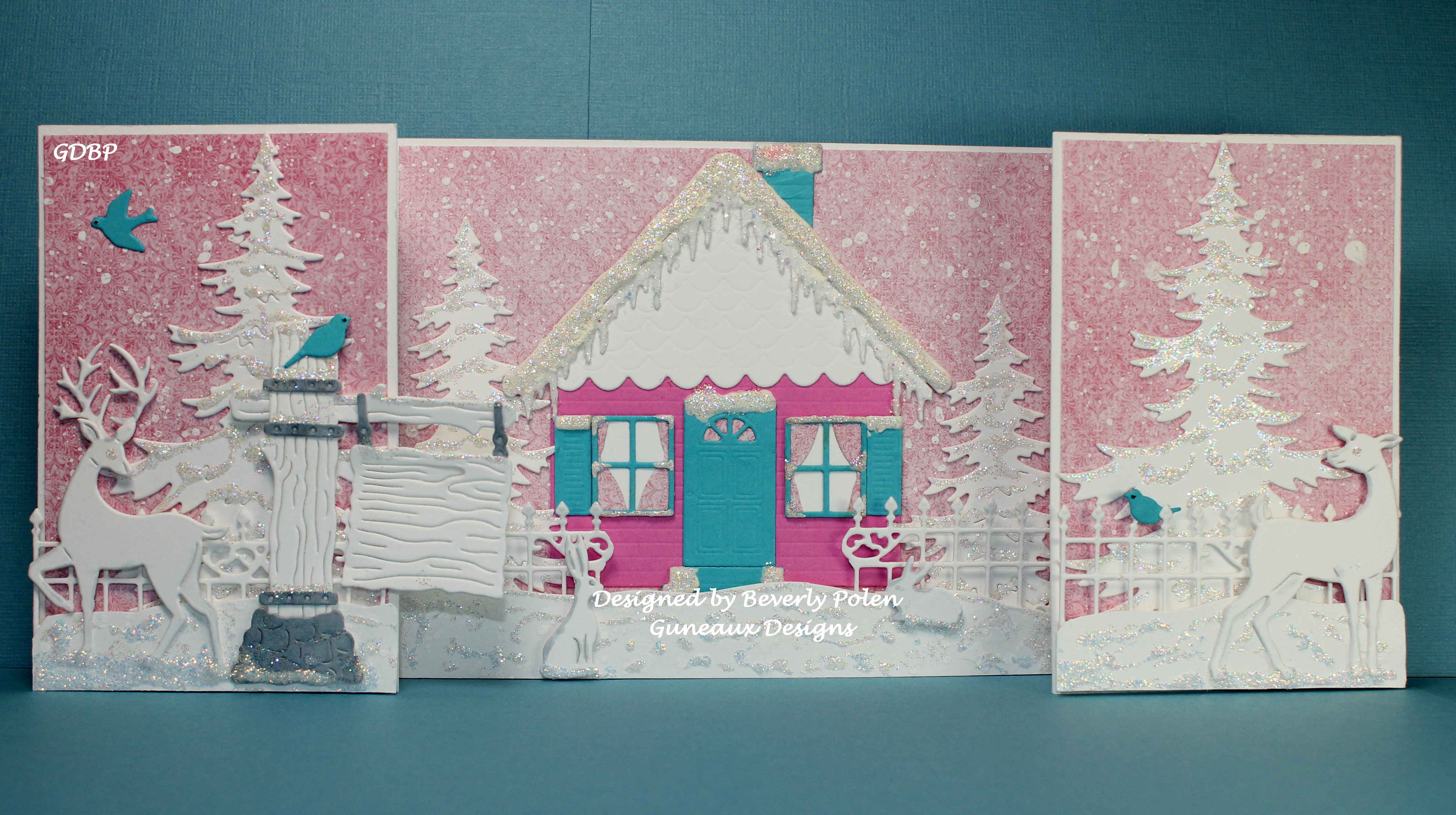 ---
1 Peter 2:24
"He himself [Jesus] bore our sins in his body on the tree, so that we might die to sins and live for righteousness; by his woulds you have been healed."
---
If you are not familiar with the  Splitcoaststampers site, let me share that on the site there are daily challenges.  Throughout a week, members view each other's cards created for the challenges, and save their "favorites" to their personal Favorites Gallery.  A challenge for last week was to view your Favorites Gallery and select a card to case (i.e., copy).  I made this card for the challenge, and it was inspired by one of my favorite cards that was created by Robin Clendenning (Stamperrobin), a member of the site.  For a picture of the card I cased and directions for her "super gate fold" card I used, click HERE.
This photo is a closeup of the center of the card.  It shows the house with icicles hanging off the roof line, and snow on top of the door, windows, shutters, and steps.  Two snow-covered trees are near the sides of the house, and the fence and rabbits are on a snow bank.  The house was created with Impression Obsession dies ( Square House, Brick house, and Snowy Roof Dies).  The trees, fence, and rabbits were created with CottageCutz Dies (Rustic Sign & Trees and Ornate Fence).
This photo is a closeup of the left side of the gate fold card.  It features a post with a sign (for sentiment), birds, fence, and a buck deer.  They were created with CottageCutz dies (Rustic Sign & Trees, Deer Set, and Ornate Fence).  The birds were created with an Impression Obsession Small Bird Die.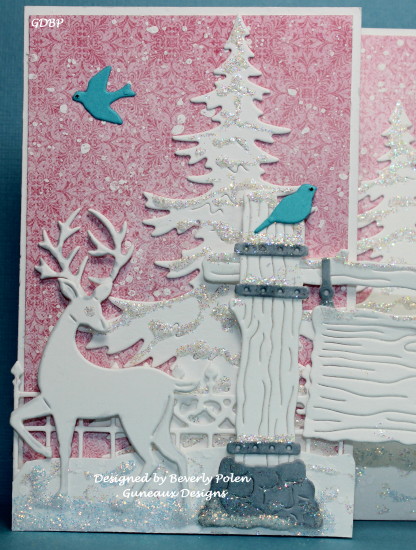 This is a closeup of the right side of the gate fold card.  The tree, bird, fence, and deer were created with the above dies.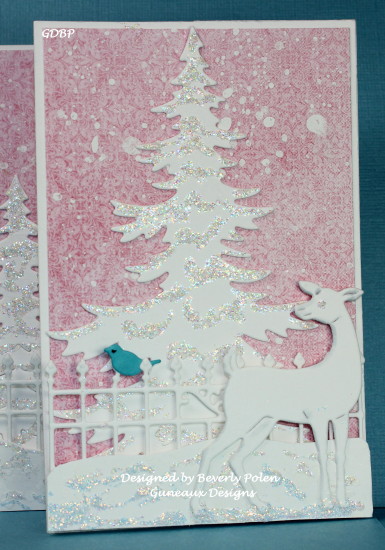 This photo is the card closed. Please take time to visit Robin's site to get a better understanding of the card fold.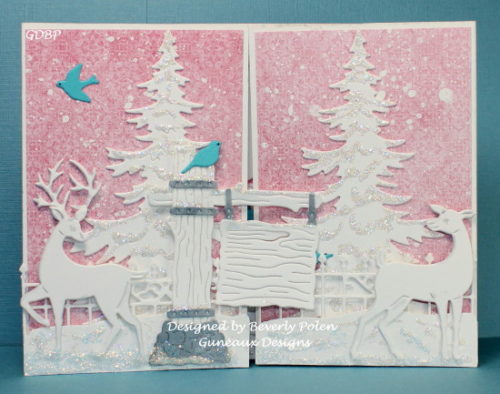 Paper: Neenah Solar White, SU Tempting Turquoise, SU Pixie Pink, Heartfelt Creations Winter's Eve Designer Paper
Ink: Gray Copic
Accessories: Many IO and CottageCutz dies, Stickles, Crystal Clear Glitter, Copic White Paint, Be Creative Adhesive, Designer Dries Clear Adhesive
I thoroughly enjoyed making this card although it was very time consuming.  I hope you enjoy it too!
---

God's Blessings!
Stamping With Guneaux Designs By Beverly Polen
Firm Reliance on Divine Providence!