A blessed day to you, and thanks for stopping by.  My card share today features the Stampin' Up! retired Ribbon of Hope Stamp, and it is in honor of Marg Mortimer (aka Margscardcrazy) who honors us with wonderful creations on  the Splitcoaststampers site. Marg is the "Featured Stamper" this week on Splitcoastampers, and the challenge is to select one of her card to CASE.  This is my card that I CASEd from one of hers: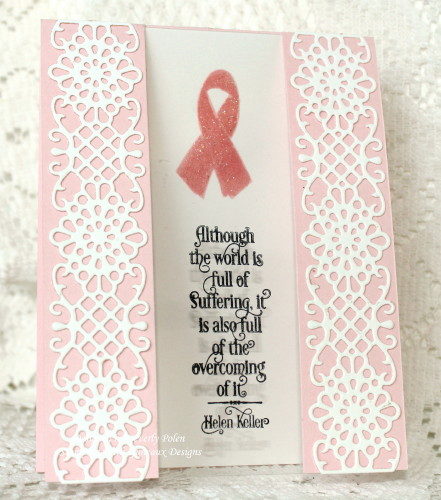 Marg has a wonderful gallery on Splitcoaststampers.  As I strolled through her gallery, I saw this card that she made in 2014.  The card spoke to my heart so I selected it for my CASE in honor of her.
In her description of her card, she shared that she created it for a challenge "to make a card with something missing. To let those who have had a mastectomy or double mastectomy know that they are still a whole person. That it's not what they now look like that makes them who they are. What makes us who we are is how we treat others, what's in our heads and what's in our hearts and how we chose to share that with others.. One, whole, beautiful!"  Well, I'm one of the ladies who she is describing.  
To create her card, Marg said,  "I cut a strip away from the front panel and then backed the front with some acetate and stamped on the inside of the card so that you could see the image through the card window."  The piece cut out from the front of her card base represented "something missing".
Therefore, I cut a strip from the front of my card's base, and instead of cutting off this piece, I folded it to the back to resemble an easel card.  I then added three lovely Our Daily Bread Designs Flower Lattice die cuts to the front and back strips.
I cut a piece of Neenah Solar White Card Stock for the card's inside, and stamped the Ribbon of Hope stamp image in Pink Pirouette ink.  I embossed the image with Stampin' Up! Iridescent Ice Embossing Powder (I believe this powder is unavailable), and attached it to the card's inside.  I used a sentiment from the Our Daily Bread Designs Healing Prayers to stamp in black Stazon ink onto a piece of window sheet (i.e., acetate) and adhered it to the two front strips.  There is space to write a personal message when you lift the front panel.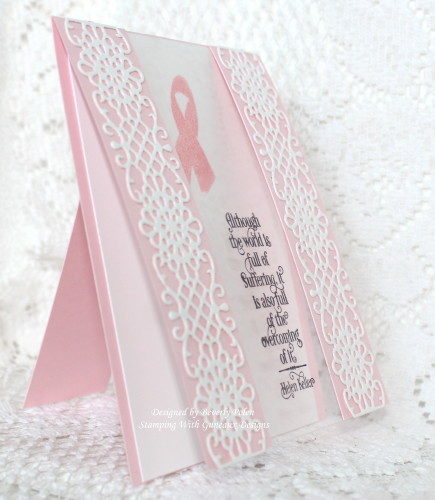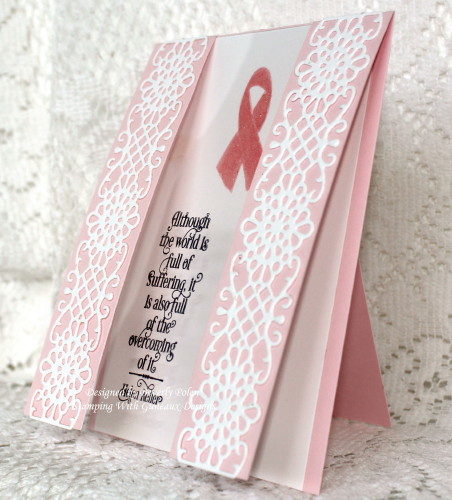 Since Breast Cancer Awareness Month is next month, October, I believe this card is timely.  I hope you've enjoyed it.
---
SUPPLIES (the Ribbon of Hope Stamp is unavailable)
---

God's Blessings!
Stamping With Guneaux Designs By Beverly Polen
---
Jesus said to his disciples, "No good tree bears bad fruit, nor does a bad tree bear good fruit.  Each tree is recognized by its own fruit.  People do not pick figs from thornbushes, or grapes from briers.  The good man brings good things out of the good stored up in his heart, and the evil man brings evil things out of the evil stored up in his heart.  For out of the overflow of his heart his mouth speaks."  Luke 6:43-45