Happy Friday, my friends!!!  My project for you today features Our Daily Bread Designs (ODBD) Dresden Quilt Die.  The ODBD Dresden Quilt Die was released, among other wonderful products, on April 1.  The ODBD's product release focused on quilts through dies, stamps, and designer paper.  Below is a picture of the ODBD Dresden Quilt Die. If interested, you can purchase the die by clicking on the above link.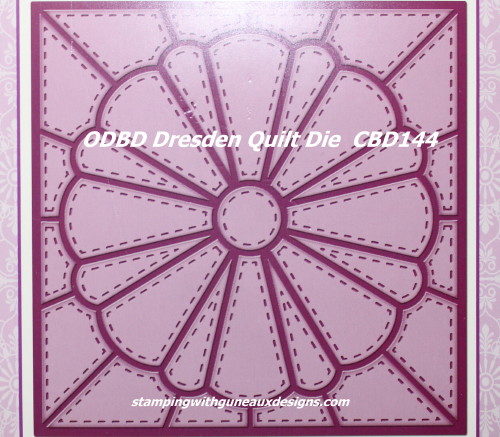 Here is the card I made using the die.  If you look closely at the die and card, you'll notice that I made a modification to the die cuts.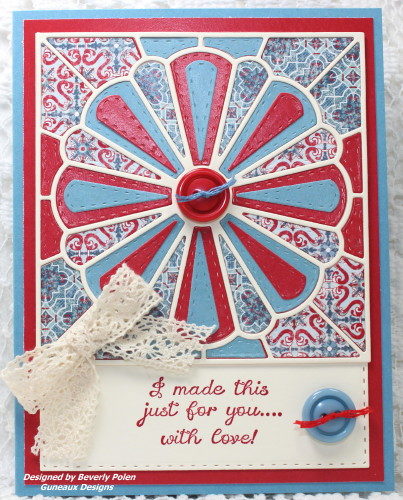 ---
(MAY 1, 2016 UPDATE:  This card was in the favorites for the week on Splitcoaststampers.com)
(MAY 3 , 2016 UPDATE:  As noted below, I entered this card into Our Daily Bread Designs' Shining The Light Challenge.  I just learned that this card is the winner for the challenge!!  I am so surprised and grateful to ODBD!  Thank you so much to the team that made the decision.  You can see the related information HERE!)
---
I think the colors of the ODBD designer papers really look great on the card.  I made the card yesterday in response to a "Ways To Use It" Challenge on Splitcoaststampers.  The Challenge, WT581, Playing Safe, was hosted by Toni (aka ravengirl) and was in recognition of National Playground Safety Week. The challenge was to "break out some of your favorite toy images" and feature one in a project.
When I read the challenge, I started reminiscing about my children as youngsters and how they loved sitting at the table with Mom, putting together puzzles, one of their favorite "toys"!  Well, the word, puzzle, was the trigger for me and my project.
I immediately thought of ODBD's April Release related to quilts.  Why?  To me, crafting with the ODBD released quilt dies requires putting together a "puzzle", and it takes time, or at least for me.  Therefore, the quilt represents the puzzles my children loved.  And they were in a safe environment, as they were sitting with me playing with puzzles and not playing on the playground!  Of course they had other favorite "toys" and certainly played on a playground!
---
I am also entering this card for the Our Daily Bread Designs, ODBDSLC273 O-D-B-D Recipe Challenge.  The recipe challenge is to use 4 items, materials or techniques beginning with each letter in ODBD.  The following is my response:
O – Old Glory Paper Pack
D – Dresden Quilt Die
B – Buttons
D – Double Stitched Rectangles Dies
---
I hope you enjoyed my card, and thanks for leaving comments!

SUPPLIES USED TO CREATE THIS CARD


God's Blessings!
Stamping With Guneaux Designs By Beverly Polen
"He answered, 'Love the Lord your God with all your heart and with all your soul and with all your strength and with all your mind'; and, 'Love your neighbor as yourself'.' "  Luke 10:27