HEARTFELT CREATIONS PAPER PURSE
I have wanted to create a paper purse for some time; therefore, I decided to create this Heartfelt Creations Paper Purse using the Heartfelt Creations Classic Petunia Collection paper and related products.
I created this paper purse for my 2-year old (almost 3) granddaughter who is my crafting partner!  Yes, you read that right!  She loves crafting with me, and she especially loves it when I make her 3-D items.  She uses the 3-D items (e.g., baskets, boxes, mini-purses, etc.) that I make her to carry around her small dolls' (i.e., 3″ tall) clothes and shoes.
She always tries, unsuccessfully, to get her little hand through the rather small handles of the smaller 3-D items.  I knew I needed to create for her a larger purse with a long strap.  Therefore, I created this purse with a long-braided strap that will meet her need.  When I gave it to her, she immediately started stuffing her doll clothes into the purse and carrying it around with the strap on her shoulder.  My objective was fulfilled, and she was a happy little girl! 
The following two photos show the sides of the purse.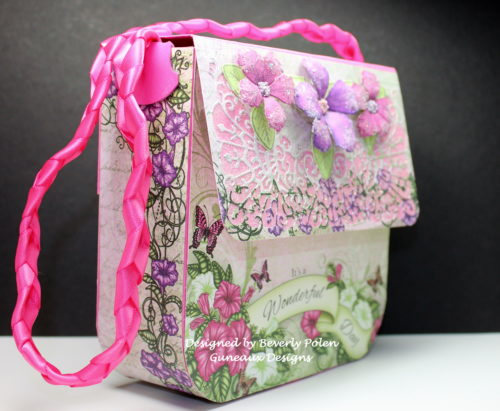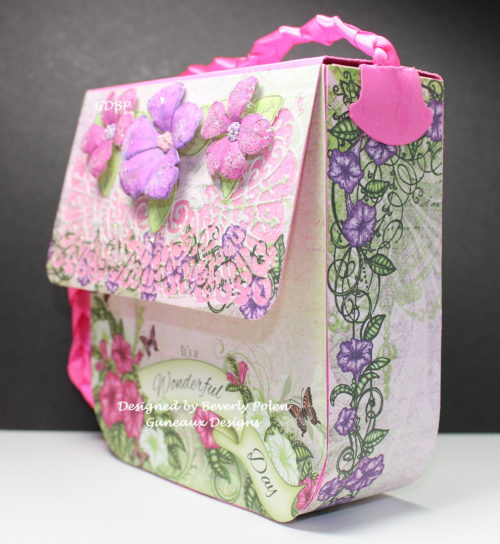 This is a photo of the back of the purse.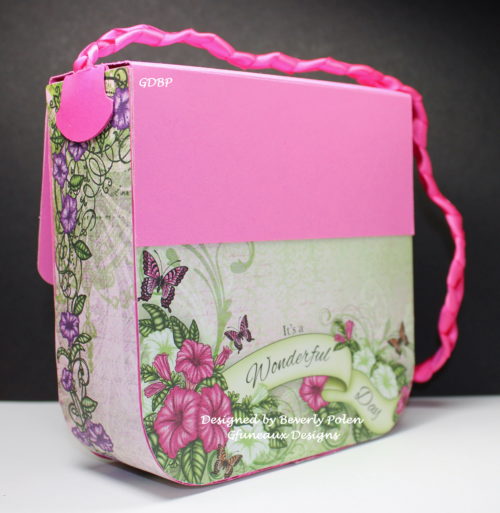 I braided three strands of bright pink Ellen Hutson ribbon to form the strap for the purse.  I used the old Stampin' Up! Round Tab Extra-Large Punch to create two tabs to attach the strap to the sides of the purse.  Before attaching them, I covered them with Glossy Accents, cut a slit in the center of each, and threaded and glued the ribbon through the slits.
I used one of the dies from the Heartfelt Creations Decorative Medallion Dies to cut a piece of Heartfelt Creations Classic Petunia Collection paper to fit on the front purse closure.  I added a strong double-sided tape on the back of the cutout, attached it to the closure, and covered it with Heartfelt Creations Frosting Powder.  I also added three paper petunias to the closure.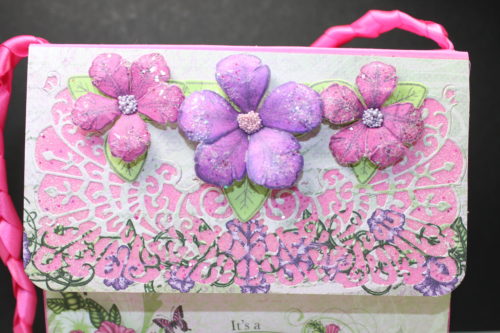 Although I used  lovely Heartfelt Creations products to make this purse, I have to share that her favorite products to use when crafting are the CottageCutz dies!!  Thank you for stopping by to view my Heartfelt Creations Paper Purse!
---

God's Blessings!
Stamping With Guneaux Designs By Beverly Polen
Firm Reliance on Divine Providence!
---
2 Chronicles 7:14
"If my people, who are called by my name, will humble themselves and pray and seek my face and turn from their wicked ways, then will I hear from heaven and will forgive their sin and will heal their land."