Hello, my crafting friends!  I appreciate you stopping by to see my Delightful Decorations Christmas card.  The Christmas ornament in the center of the card is a nativity scene that I created with the Our Daily Bread Designs Delightful Decorations Dies.  The Noel sentiment was created with the Our Daily Bread Designs Noel Die.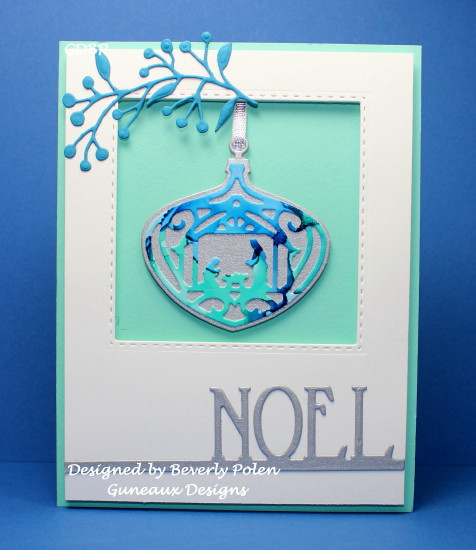 The Splitcoaststampers.com crafting site is holding its second annual Falliday Fest!  I created this card for one of the Falliday Fest Challenges as well as the Splitcoastampers Clean and Simple Challenge (CAS) for this week.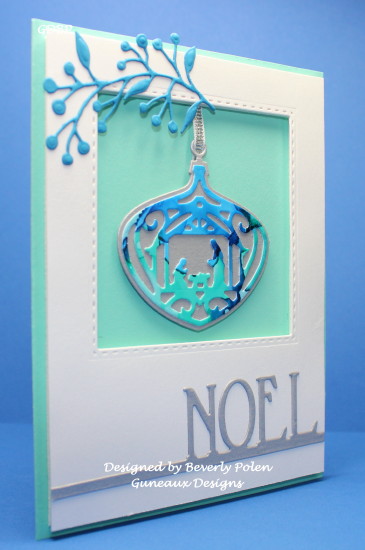 The CAS challenge was to us a one-word sentiment, which I did by using the Our Daily Bread Designs (ODBD) Noel Die.  The Falliday Fest Challenge was to create a project using any tutorial featuring alcohol from the tutorials section on the site.  I used the Alcohol Ink Baubles Tutorial.  This was my first time using alcohol inks on Yupo paper, and it was a lot of fun.  I used the technique on two other cards that I made and will share this week.
I hope you enjoyed the card!  You can read the comments on my card on Splitcoaststampers HERE.
Paper:  Yupo Paper, Neenah Solar White, SU Brushed Silver, SU Coastal Cabana, SU Pacific Point
Ink:  Copic Alcohol Inks
Accessories:  ODBD Delightful Decorations Dies, ODBD Noel Die, ODBD Double Stitched Squares Dies, Tim Holtz Thinlits, Silver Ribbon, Foam Tape (2 layers),
Techniques: Alcohol Ink Bauble

God's Blessings!
Stamping With Guneaux Designs By Beverly Polen
Firm Reliance on Divine Providence!
---
Joel 2:28-32 (The Day of the Lord)
"And afterward, I will pour out my Spirit on all people.  Your sons and daughters will prophesy, your old men will dream dreams, your young men will see visions.  Even on my servants, both men and women, I will pour out my Spirit in those days.  I will show wonders in the heavens and on the earth, blood and fire and billows of smoke.  The sun will be turned to darkness, and the moon to blood before the coming of the great and dreadful day of the Lord.  And everyone who calls on the name of the Lord will be saved; for on Mount Zion and in Jerusalem there will be deliverance, as the Lord has said, among the survivors whom the Lord calls."  Are you ready?