HEARTFELT CREATIONS BOTANIC WINDOW CHRISTMAS ORNAMENT
Welcome, my friends!  I have been absent for many days as a result of Hurricane Irma. I live in Florida, and my area was hit by the storm.  I lost power for several days and had no way to post.  My power has returned, and I wanted to share a Heartfelt Creations Botanic Window Christmas Ornament that I made at the end of August.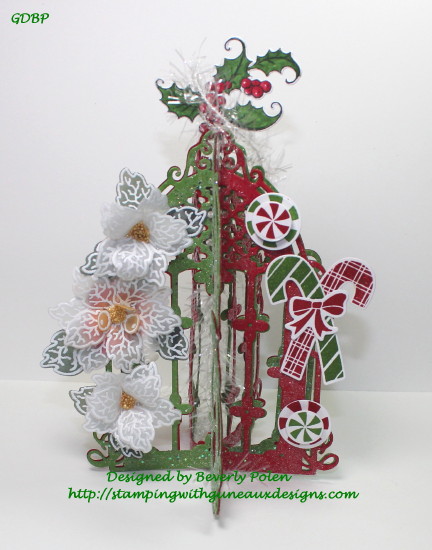 I created this ornament in response to a challenge on Splitcoaststampers.  The hostess selected a great site from which to draw inspiration in creating. I selected the Christmas Shop to search for inspirational items.  I was inspired by this and this from the site. The items inspired me to make a Christmas ornament.
To create the Christmas ornament, I cut out six windows, three green and three red.  I covered each with sparkles, added a piece of old SU sparkly twine into the center, and glue the windows together.  I used vellum, white embossing powder, and a heat gun to make and die cut some poinsettias.  After forming them and adding prills, I added them to the left side of the ornament.  I used some Catherine Pooler stamps and dies to create some candy canes and treats.  I attached the pieces to the right side of the ornament.  For the top of the ornament, I added some holly and berries that I stamped and die cut with the HC Festive Holly & Cardinals stamps and dies. Before Christmas, I plan to add other elements to the ornament.
I had fun making the ornament.  Enjoy, and thanks for stopping in and leaving comments!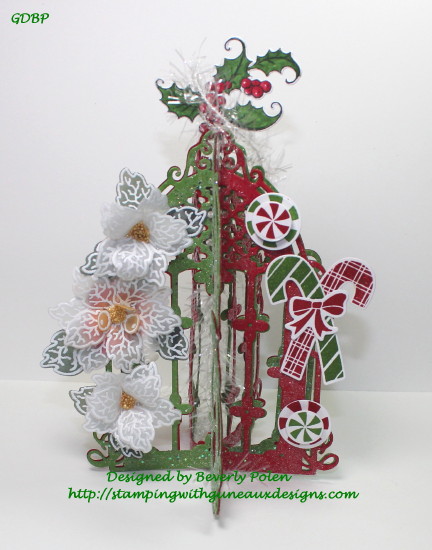 Stamps: HC Sparkling Poinsettia, HC Festive Holly & Cardinals
Paper: Neenah White, SU Gumball Green, SU Real Red, Vellum
Ink: VersaMark Ink, Memento Inks, Copics
Accessories: HC Botanic Window Die, HC Sparkling Poinsettia Die, HC Festive Holly & Cardinals Die Papericious Sparkles, Foam Tape, Be Creative Tape
---

God's Blessings!
Stamping With Guneaux Designs By Beverly Polen
Firm Reliance on Divine Providence!
---
Revelations 4:1-4
(The Throne in Heaven) "After this I looked, and there before me was a door standing open in heaven.  And the voice I had first heard speaking to me like a trumpet said, "Come up here, and I will show you what must take place after this."  At once I was in the Spirit, and there before me was a throne in heaven with someone sitting on it.  And the one who sat there had the appearance of jasper and carnelian.  A rainbow, resembling an emerald, encircled the throne.  Surrounding the throne were twenty-four other thrones, and seated on them were twenty-four elders.  They were dressed in white and had crowns of gold on their heads."