Welcome!  I hope you had a wonderful week of Christmas!  My week was exhausting, and I am glad it is behind me!!  I have a cute card share for you, Guneaux Designs Fairy Greeting Card.  It's a Happy Birthday greeting card, and the fairy image is a digital one!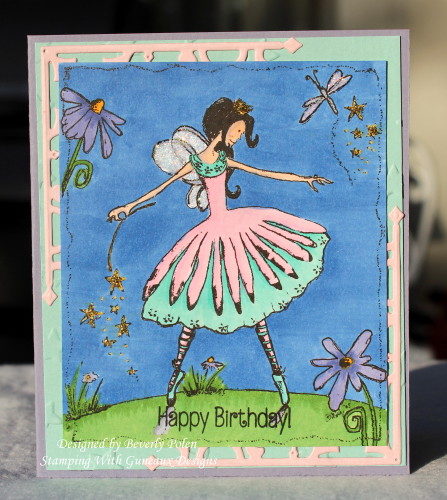 This card was made for a card drive for the Bright Star Center in Florida that provides grief counseling for young children.  The Bright Star Center assists children ages 3-18 through the grieving process.  Because children grieve differently than adults, at Bright Star they are encouraged to express grief both verbally and through positive play.  Art, children's yoga, grief groups, and a one-day camp are just a few activities offered. Because of the Center's name, the request was to create birthday cards that include stars.  The cards requested were for children from 2 years of age to young adults. This card drive was such a worthy cause, and I enjoyed creating the card.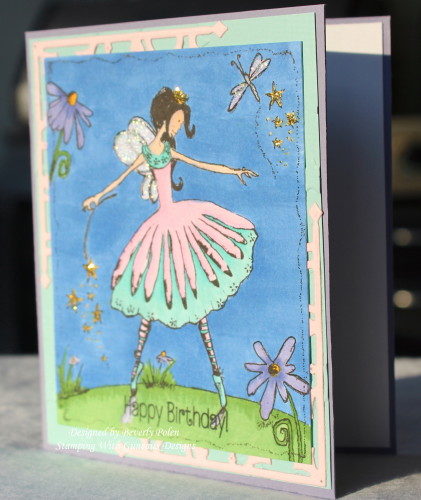 ---
Stamp:  Digital
Paper:  Neenah Solar White, SU Pink Pirouette and Baja Breeze
Ink:  Copics
Accessories:  SU and ODBD Corner Dies, Stickles
---

God's Blessings!
Stamping With Guneaux Designs By Beverly Polen
Firm Reliance on Divine Providence!
---
"I am the true vine, and my Father is the gardener.  He cuts off every branch in me that bears no fruit, while every branch that does bear fruit He prunes so that it will be even more fruitful."  John 15:1&2 NIV