GUNEAUX DESIGNS 2017 BEST HANDMADE CARDS
HAPPY NEW YEAR, EVERYONE!!  May your year be one of blessings and good health!  As shared yesterday, I am looking back at Guneaux Designs 2017 best handmade cards and wanted to share them.  Hopefully, you will come along with me on this journey.  I posted the cards on Splitcoaststampers (SCS), Pinterest, and/or other sites.  The comments on SCS and Pinterest PINs is my guide on selecting the best cards.  You can click on the photos to get full details about them.
Here are the three best cards for day two:
 

FIFTH AVENUE FLORAL BIRTHDAY CARD
I posted this card on my site on March 4, 2017.  I am finding it interesting to look back at my card posts, as I am learning that I did not always post my cards to SCS and/or Pinterest.  This card is one of them!  However, I love this card as I made it for my daughter's birthday and she loved it.
---
Revelation 3:10 & 11
"Since you have kept my command to endure patiently, I will also keep you from the hour of trial that is going to come upon the whole world to test those who live on the earth.  I am coming soon.  Hold on to what you have, so that no one will take your crown."
---
2.  ODBDSLC284 ANYTHING GOES WITH ODBD STAMPS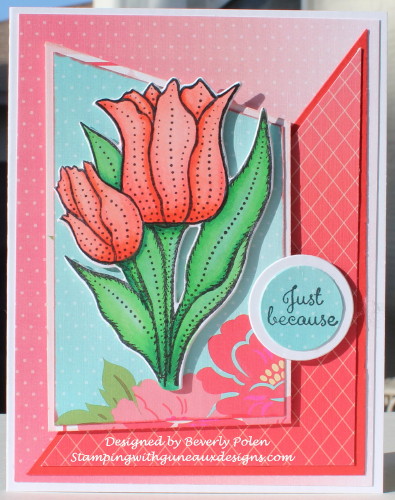 I posted this card on my site on March 8, 2017 and April 8, 2017 on SCS.  It received many comments on SCS and was selected as a favorite on the site for the week posted.  It was also selected as the winner for the Our Daily Bread Designs Shining the Light Challenge  on April 4, 2017.
3.  COTTAGECUTZ WOODLANDS AND WOODLANDS ANIMALS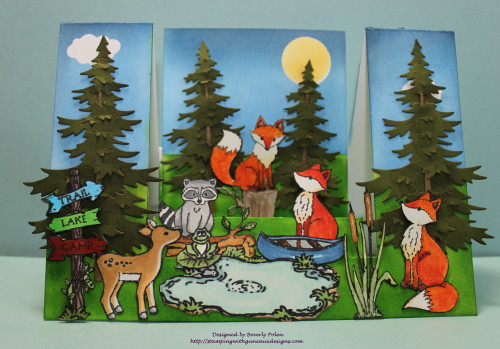 I posted this card on April 5, 2017 on my site, Scrapping Cottage Blog (I designed it for CottageCutz), SCS, and Pinterest.  It received many comments and was a favorite for many people on SCS.
Thank you for stopping by Guneaux Designs, and come back tomorrow for more Guneaux Designs 2017 Best Handmade Cards.
---

God's Blessings!
Stamping With Guneaux Designs By Beverly Polen
Firm Reliance on Divine Providence!