Everything Eleanor Stamp Set, Quatrefancy DSP, Stampin' Up!
Do you like trying different forms of art?  I sure do.  Actually, I am excited to share with you today a new art form that a special friend shared with me this weekend.  The art requires  using tracing paper to trace images or items, cutting out the traced items, temporarily adhering the cut-outs onto Designer Series Paper, drawing around the cut-outs, and cutting out the drawn pieces and adhering them to paper to create an image.  It closely resembles using a pattern to cut out and sew fabric.  This piece that I'm sharing features the Stampin' Up! Everything Eleanor Stamp Set and the Stampin' Up! Quatrefancy Speciality Designer Series Paper.  The piece of art is 6″ x 12″; therefore, my pictures are a little larger than usual.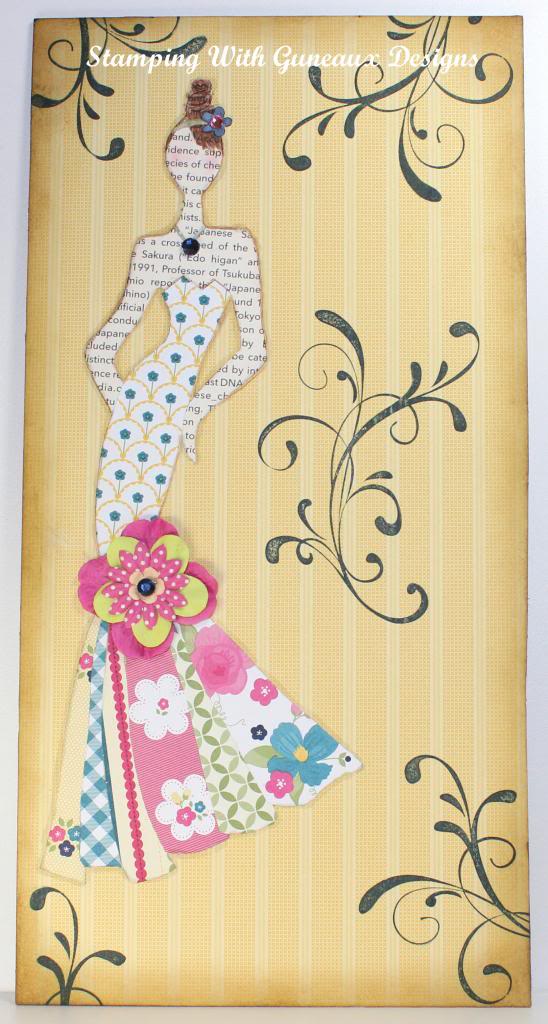 Isn't she beautiful?  I think so!!  All of the paper on the piece of art is Stampin' Up! Designer Series Papers.  My lady has an up-do which is enhanced with a headband decorated with a flower and rhinestone.  Her body is made with a Stampin' Up! script DSP.  The upper portion of her dress is made with one design  from the upcoming Quatrefancy  Speciality Designer Series Paper, which I love.  The bottom portion is made with various designs from the same DSP.  The stamp image from the Everything Eleanor Stamp Set really causes the piece to pop!  I'm thinking that I will call my lady, Eleanor!  That seems quite fitting! (lol)
The following pictures provide a better view of Eleanor's dress top and bottom: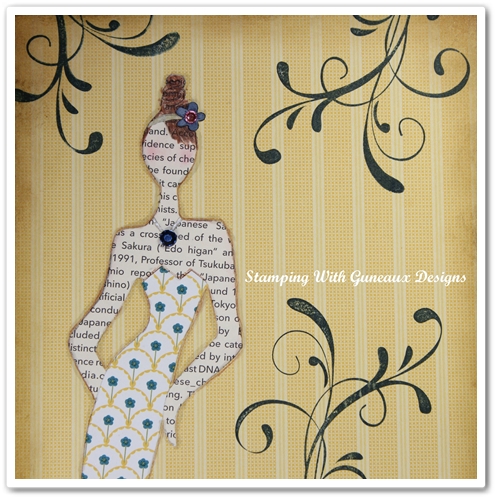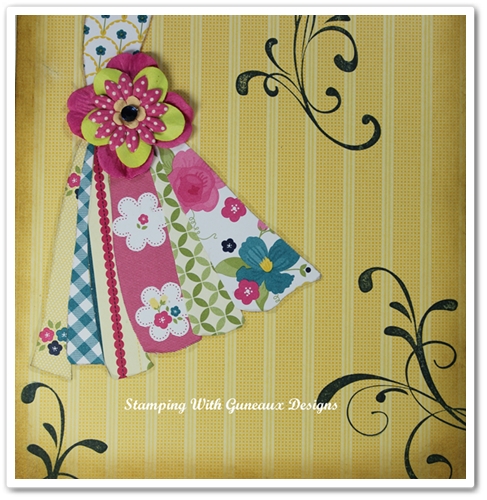 The flowers at the top of the dress bottom are enhanced with a Stampin' Up! Basic Rhinestone that I colored with a permanent marker.  The flowers themselves are from a collection that is not Stampin' Up! flowers.
After adhering all of the pieces (i.e., her body, dress, flowers) to the yellow piece of paper, which is a design from the Quatrefancy DSP, I adhered it to a piece of cardboard.  This provides the art piece with stability and allows me to set it up in a picture stand.
I hope you enjoy Eleanor and will give this art form a try!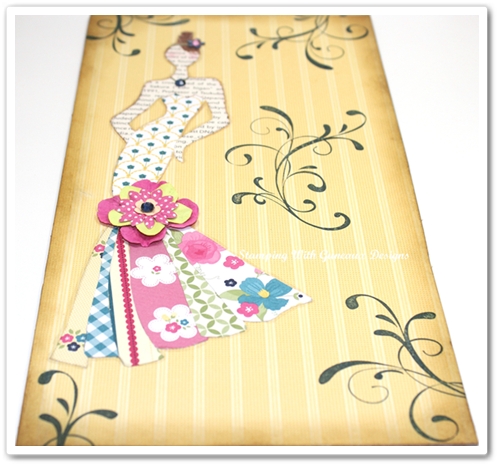 God's Blessings!
Stamping With Guneaux Designs
 Everything Eleanor Stamp Set and Quatrefancy Speciality Designer Series Paper