Hello, crafters, and thanks for stopping in at Guneaux Designs to see my Mondo Poinsettia Merry Christmas Card.  I think this card turned out beautifully!  I love the different shades of red and green on the card.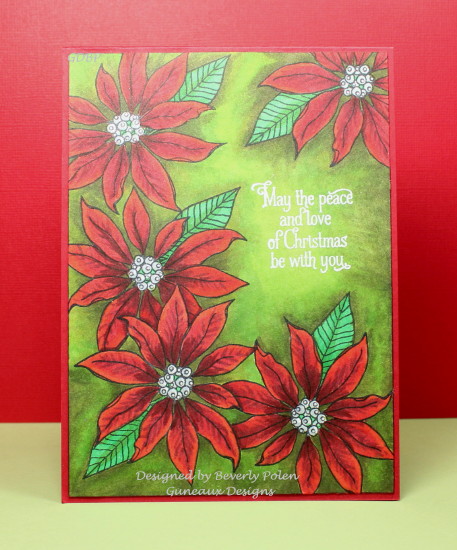 ---
Romans 1: 26 & 27
"Because of this, God game them over to shameful lusts.  Even their women exchanged natural relations for unnatural ones.  In the same way the men also abandoned natural relations with women and were inflamed with lust for one another.  Men committed indecent acts with other men, and received in themselves the due penalty for their perversion."
---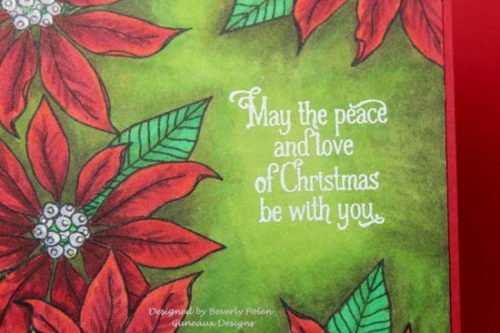 I made this card for two challenges on Splitcoaststampers.  One, IC620, the hostess,  Julie, selected a wonderful site from which to draw inspiration for creating a card.  This beautiful poinsettia card was my inspiration.  The second challenge was a Splitcoaststampers Falliday Fest Challenge, FF17TexasGrammy, which was to use masking.  I used masking on the poinsettias and leaves.
Thanks for stopping by and leaving a comment!!
Stamps: Mondo Poinsettia Essentials by Ellen, ODBD Joys of the Season
Paper: Neenah White, SU Real Red
Ink: Reds, Greens, and Gray – Copic, Black, VersaMark Ink
Accessories: Inkadinkado Stamping Mask Paper, Scissors, White Embossing Powder, Be Creative Tape, Clean Wink of Stella
Techniques: Masking
I hope you enjoyed my Mondo Poinsettia Merry Christmas Card!
---

God's Blessings!
Stamping With Guneaux Designs By Beverly Polen
Firm Reliance on Divine Providence!