Does this card bring back memories for you?  I created the card using the Heartfelt Creations Young At Heart collection, and it certainly brought back very happy moments for me.  I guess you have to be in your 50s or older for it to cause you to remember when you were "Young at Heart".  LOL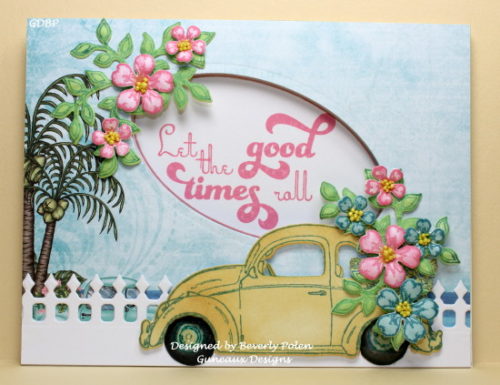 I made the card to submit to last week's Color Challenge on Splitcoaststampers.  I love the colors Karen Barber selected for the Color Challenge. They are SU Wild Wasabi, Powder Pink, So Saffron, and Soft Sky.  My card was selected as the Color Challenge Favorite on Splitcoaststampers!
---
Matthew 12:34-36
Jesus said: "You brood of vipers, how can you who are evil say anything good?  For out of the overflow of the heart the mouth speaks.  The good man brings good things out of the good stored up in him, and the evil man brings evil things out of the evil stored up in him."
---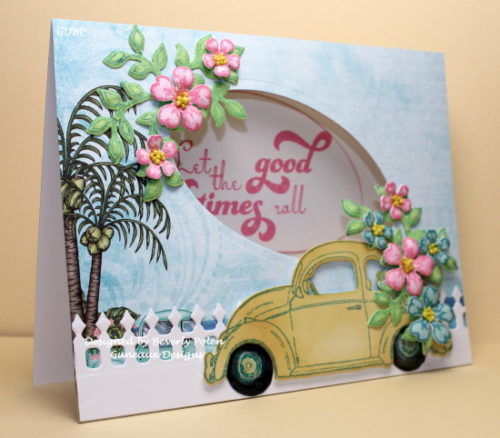 I love the yellow Volkswagen Beetle on the card as it reminds me of my first car.  One glorious day, my Dad met me at lunch and took me to a Volkswagen dealership to buy my first car.  It was a yellow Beetle with a stick shift!  I didn't know, at that time, how to drive a stick shift!!  Boy, was I sweating!  However, my Dad had a lot of faith in me and it was his decision to get the stick shift.  He said I wouldn't have any problems driving it!!!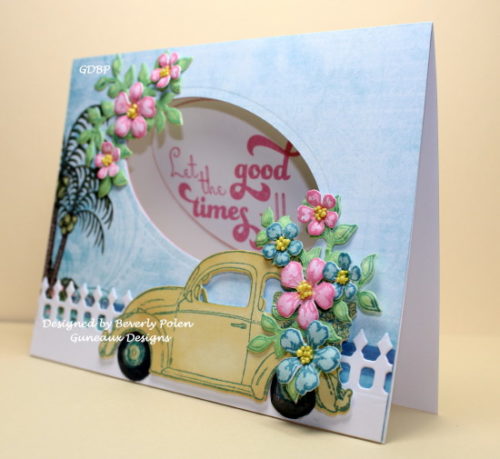 I drove the car back to work and then home at the end of the work day.  I had one very curvy mountain to go down on the way home, and that required a lot of down shifting. Boy, that stick shift and I had hiccups all the way home (those of you who can drive a stick shift know what I mean)!  My Dad got such a kick out of watching me pull into the driveway!  I was sweating bullets when I got out of the car and he was standing in the yard laughing his heart out.  Eventually, I grew to love that car, and I still have the tags from it.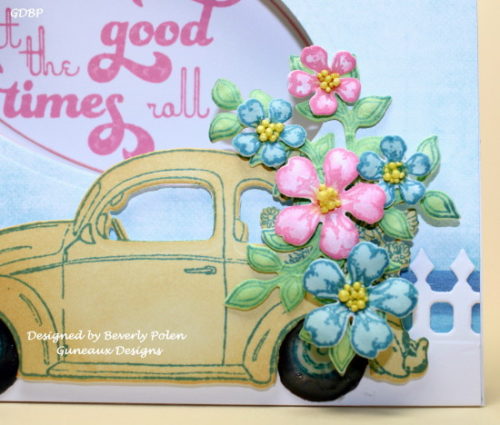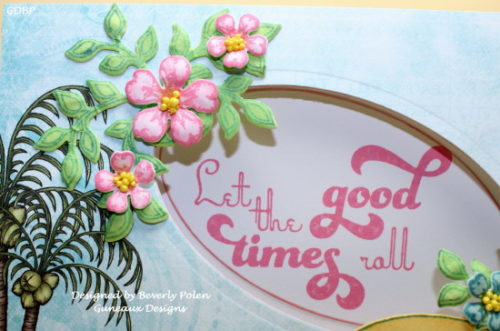 I am happy to share that this card was designated as the Splitcoststampers Color Challenge Favorite for the week of October 15, 2017.  What an accomplishment!
Stamps: Heartfelt Creations Young At Heart Collection
Paper: White Card Stock, Designer Paper
Ink: SU So Saffron, SU Soft Sky, SU Pink Pirouette, Memento New Sprout, Color Box Rouge, Hero Arts Black
Accessories: Heartfelt Creations Young At Heart Dies, Yellow Prills, Glossy Accents

God's Blessings!
Stamping With Guneaux Designs By Beverly Polen
Firm Reliance on Divine Providence!