I think that one of the most beautiful scenes in the Northern United States is a beautiful snowy scene that is untouched by tire tracks, foot prints, animal hoof/paw prints, road slush, and more.  The quietness of a landscape with trees that are covered with freshly fallen white snow is a gift from heaven and it certainly is a happy scene.  You can see things in the landscape that you have not noticed before.  If there is a red cardinal in the landscape, that pop of red upon the glistening white snow is breathtaking.
Last week I created a similar scene for my card that I am sharing today.  I created the card in response to a Splitcoastampers.com  Inspirational Challenge, IC527.  The challenge involved picking a picture from a particular Pinterest board that inspired you, and then creating a card based on that inspiration.  This is the beautiful picture I chose as my inspiration:
 And this is my inspirational card that I created
I was excited to hear that my card was selected for one of the Splitcoaststampers FAVORITES for the week ending January 10.  
To create the scene, I used Stampin' Up! stamp sets that included trees and one that included the bench in the scene.  The stamp sets are:
Happy Scenes (retired)
Branch Out (retired)
Plant Hope (retired)
Pendant Park (retired)
I began by stamping the large tree from the Branch Out Stamp Set into VersaMark Ink and stamping it in four places on the Whisper White Card Stock.  I then embossed these trees (including the branches at the top left and right) with Stampin' Up! Pewter Embossing Powder (retired).
Using light gray inks, I stamped the remaining trees in the background.  Because the inspirational picture has yellow and orange in the sky portion of the background, I sponged Stampin' Up! So Saffron and Peach Parfait Ink onto the snowy scene background.  I added a bench into the foreground with red birds (from other stamp sets) on and around the bench.  I added the sentiment from the Happy Scenes Stamp Set.
Once I was satisfied with the scene, I added white acrylic paint to place "snow" within the trees.  I covered the complete scene with VersaMark Ink and heat embossed with Stampin' Up! Iridescent Ice Embossing Powder.
I attached the scene to a piece of Brushed Silver Card Stock which was attached to the Real Red card base.
Enjoy my snowy scene greeting card!
---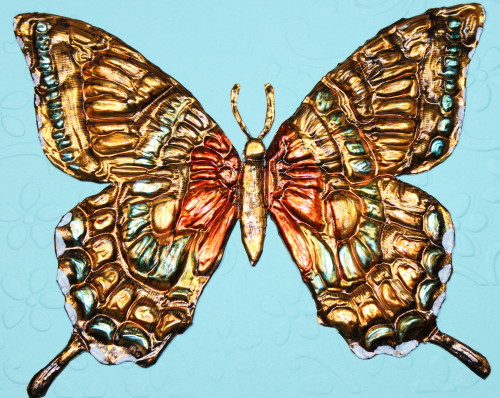 God's Blessings!
Stamping With Guneaux Designs