FREDERIQUE MORREL ARTWORK INSPIRATION
Welcome!  Today I created my first shadow box card that was inspired by the Frederique Morrel Artwork site.  The Splitcoaststampers.com Inspiration Challenge for today featured this site.  It is an awesome site of a different type of art, which is textile art.  The artwork seems to be driven primarily by deer, birds, bunnies, and flowers.  It was difficult for me to select one piece of art; therefore, I created this card as my Frederique Morrel Artwork Inspiration piece.  I tried to capture the essence of the site when creating the card.  The bunnies and deer in the shadow box are created from fabric.
---
Luke 15:3-7
"Then Jesus told them this parable:  "Suppose one of you has a hundred sheep and loses one of them.  Does he not leave the ninety-nine in the open country and go after the lost sheep until he finds it?  And when he finds it, he joyfully puts it on his shoulders and goes home.  Then he calls his friends and neighbors together and says, 'Rejoice with me; I have found my lost sheep.'  I tell you that in the same way there will be more rejoicing in heaven over one sinner who repents than over ninety-nine righteous persons who do not need to repent."
---
I used an old Stampin' Up! piece of fabric (i.e., Springtime Vintage) to die cut the animals (i.e., bunnies and deer) in the scene of the card, and added some flowers, which are prevalent in the artist's work.
This photo is a closeup of the bunnies that I die cut from the fabric with a CotttageCutz Bunny Trio Border Die.  I die cut several pieces with the die to create dimension for the bunnies.  I added gems for the eyes and noses.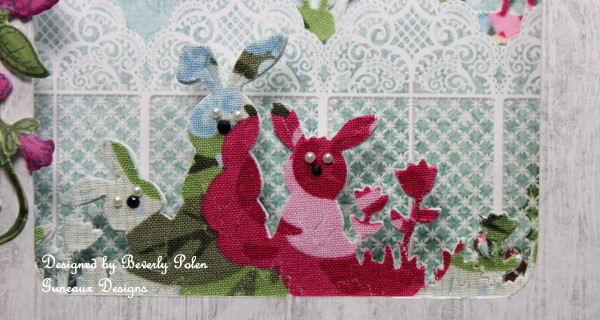 This is a closeup of the deer that I cut from the SU fabric with the CottageCutz Winter Wonderland Deer Die.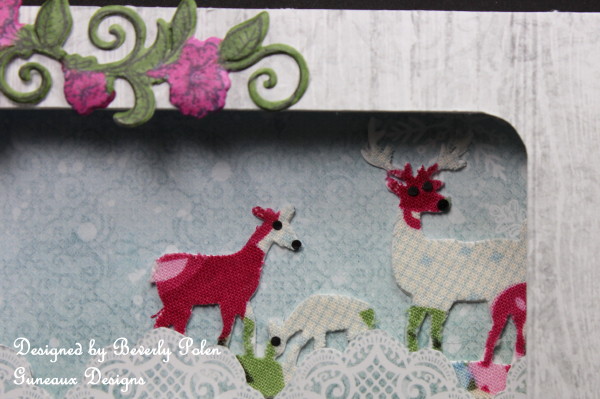 This is definitely a different type of art for me.  I was outside my comfort zone; however, that is good to push yourself outside of that zone.  I am satisfied with the results.
Thanks for stopping by, and a special thanks for leaving a comment!!
---
Stamps:  Heartfelt Creations Large Classic Petunia
Paper:  Heartfelt Creations Winter's Eve Designer Paper, Neenah Solar White Card Stock
Ink:  Memento Tuxedo Black Ink and Copics
Accessories:  SU Springtime Vintage Fabric, CottageCutz Bunny Trio Border Die, CottageCutz Winter Wonderland Deer Die, Heartfelt Creations White Shadow Box, Heartfelt Creations Large Classic Petunia Dies, Double-Sided Foam Tape and Be Creative Adhesive, Gems
---

God's Blessings!
Stamping With Guneaux Designs By Beverly Polen
Firm Reliance on Divine Providence!