Are you having a good day?  I spent the morning mowing my grass in the hot sun.  But praise God I am able to do that!  Today I wanted to share with you a Fall Zentangle® Card I made.  I love the Zentangle® Art  Form and have wanted to create a Zentangle®  for a fall card, and here it is: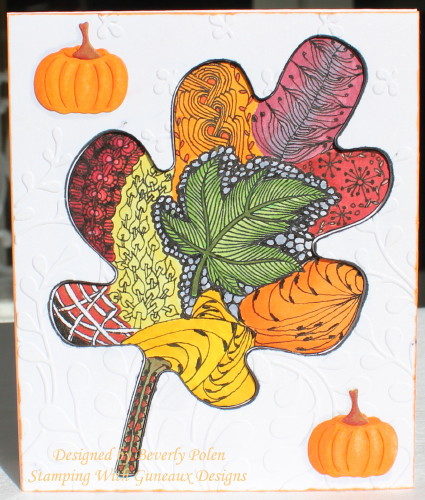 The fall season brings such beautiful colors and striking leaves.  It is such a pleasure to see God's beauty when you are on a mountain top looking down at the valleys and soaking in all the glorious colors of leaves on trees.  But if you do not live in an area when you can enjoy this every Fall, you are missing a lot of beauty.  Actually, I live in Florida, having moved here from northern Virginia where it was fabulous every fall.  Florida never seems to get the memo announcing that it is fall, so I do not have to opportunity to share in God's beauty unless I travel approximately 1,000 miles north!  It is so worth it when I do go north in the fall.
Back to the card.  The following picture is a close up of the Zentangle®.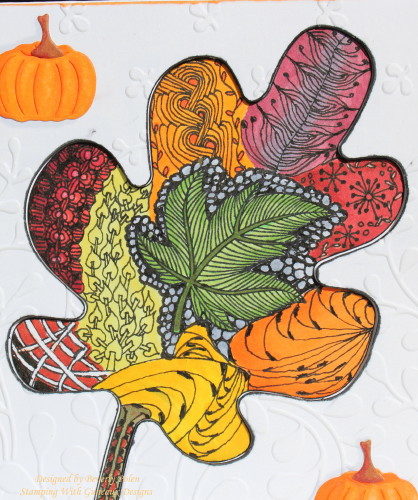 What is a Zentangle?  You can get complete information HERE!
To create the card, I used an original Sizzix Leaf Die (no longer available) to cut out a leaf from Solar White card stock. I retained the negative to use for the card front. I began creating my Zentangle® art piece by stamping an autumn leaf in the center of the leaf cutout.
To create my tangles, I decided to not use an official string, which is the norm. I let the stamped leaf be my guide. I selected several official tangle patterns, got into a Zen frame of mind, and started tangling. After drawing my selected official tangles, I used Copic Sketch Markers to color the tangles that create my leaf.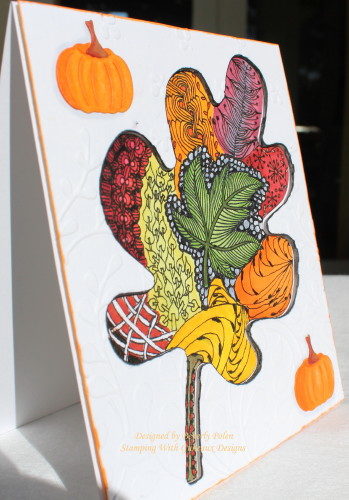 Remember the negative that I put to the side? I embossed it with a vines EF, attached it to the card front, inserted the Zentangle® art piece into the negative, and added two pumpkins to complete the card.  I hope you are inspired to create a Zentangle® art piece.
---
SUPPLIES USED THAT ARE AVAILABLE
---

God's Blessings!
Stamping With Guneaux Designs By Beverly Polen
---
A man named Lazarus was sick.  His sisters sent word to Jesus of his illness. Jesus comforts Lazarus' sisters:
"Jesus said to her, "Your brother will rise again."  Martha answered, "I know he will rise again in the resurrection at the last day." "Jesus said to her, "I am the resurrection and the life.  He who believes in me will live, even though he dies; and whoever lives and believes in me will never die.  Do you believe this?"  John 11:23-25